Joan Burton criticises Irish banks for pulling out of

'their agreed'

'

deals on mortgages'

Tánaiste says reducing bankruptcy periods may send message to institutions of

'playing games'

with customers in severe difficulties.
Tánaiste Joan Burton has criticised the banks for pulling out of deals with customers in mortgage difficulties.
Tánaiste Joan Burton has said a reduced bankruptcy period could send a message to banks who are pulling out of deals with customers in mortgage difficulty.
Ms Burton said she recently met personal insolvency practitioners who told her banks were creating an expectation that arrangements could be agreed but were then disappointing clients.
"If we reduce the bankruptcy period maybe that will send a message to the banking institutions, particularly those who are kind of playing a game of 'now you see it, now you don't', suggesting to people that a deal is possible and then pulling out at the last minute."
Labour TD Willie Penrose is preparing legislation to cut the bankruptcy period from three years to one year.
Speaking in Dublin this morning, Ms Burton said she had not had an opportunity to read Mr Penrose's Bill. The bankruptcy period was reduced from 12 to three years at the end of 2013.
She said she wanted to see people staying in their family homes.
"We have an insolvency process vastly reduced in time from 12 years down to three, which is great. But at the same time what the personal insolvency practitioners were saying to me is that…some of the banks are not cutting deals," she said.
The Tánaiste said people who had "got the courage" to attempt to strike a deal with the bank were often left in a worse situation when "at the last minute the deals are being pulled".
Ms Burton said not every financial institution acted in this way.
She was speaking after addressing a business event to mark National Employment Week 2015 in the House of Lords, Bank of Ireland, College Green.
MEANWHILE:—
Moves to reduce bankruptcy period to one year now proposed by Lab. TD.
A leading Labour TD is preparing special legislation to cut the bankruptcy period from three years to one year.
Former Junior Housing Minister Willie Penrose, who is also a barrister, says the law introduced in 2012, and the accompanying insolvency service, has not helped enough people struggling with debt.
His move follows comments in the Dáil last week by Tánaiste Joan Burton, who said the three-year bankruptcy duration – recently reduced from the long-standing 12-year term – will be revisited.
There has also been a strong call from mortgage debt campaigner David Hall for such a move.
Mr Hall said that the Government's remedy, the Insolvency Act of 2012, simply has not given necessary relief to very many people.
"An alternative which is within the control of politicians is to reduce the current bankruptcy term to one year. This is an uncomplicated move and one that could happen within weeks and I would imagine a vote that could be 100pc supported by TDs and Senators," Mr Hall told the Irish Independent.
Mr Hall, who was an independent candidate in a by-election in Dublin West in 2014, said that the introduction of the Insolvency Service of Ireland in September 2013 had failed to help the hundreds of thousands of people "smothered by debt."
The debt relief campaigner said the statistics on debt showed how few people had been helped.
* There are 117,000 family home mortgages in arrears, each with an average of four unsecured debts such as credit cards and credit unions.
* Over 38,000 buy-to-let mortgages are in arrears.
* The Insolvency Service has a €7.5m budget and 95 staff – but only helped secure 1,000 "deals" in 2014.
* 448 of these "deals" were people going bankrupt and 251 were debt relief notices with debts under €20,000.
* Just 199 involved property but most were buy-to-let properties.
* Just a handful were family homes and 97 covered unsecured debts.
The debt-relief campaigner argued that given this record it was time to try again.
He acknowledged that other law changes aimed at reducing the banks' de facto veto on "writing down" debt could run into constitutional difficulties – but this law change would change bank attitudes.
"Banks have an obsessive compulsive disorder around writing down or writing off debt. They must have their minds focused," he said.
"Banks only understand one language and a one-year bankruptcy is urgently needed to focus banks and all creditors' minds," Mr Hall added.
Labour TD Willie Penrose said he will discuss his draft law with party colleagues next week.
He said along with the reduction of the bankruptcy period from three years to one year, the current "follow-on period", which also allows creditors recoup debt, would be cut from five years to three.
"Apart from anything else the current situation where it is three years' bankruptcy and one year north of the border is rather silly and impractical," Mr Penrose said.
Last Thursday the Tánaiste said the Government will consider this change.
Tea could also can reduce your risk of diabetes type 2?
Tea consumption is also associated along with certain cancers, and with a reduced risk of type 2 diabetes, according to recent new research.
The review authored by Dr Catherine Hood from the Tea Advisory Panel looked at 12 studies and of these 11 showed a positive effect of tea consumption on reducing the risk of diabetes.
Dr Hood commented: "In the Chinese Singapore Study among 36 908 participants age 45-74 years, consumption of more than one cup of tea daily reduced the risk of diabetes by 14%.
"The Dutch arm of the big European Prospective Investigation into Cancer and Nutrition (EPIC) which was followed up for 10 years found a bigger reduction in risk of diabetes. In this study total daily consumption of three cups of tea, three cups of coffee or a combination of tea and coffee reduced the risk of type 2 diabetes by approximately 42%."
She continued: "The BMJ published a study evaluating the relationship between black tea consumption and key health indicators across the world. Health indicators covered were respiratory diseases, infectious diseases, cancer, cardiovascular diseases and diabetes at a global level. This study found a significant linear correlation between high black tea consumption and low diabetes prevalence in the world. "
Dr Tim Bond from TAP added: "Overall these studies indicate a very promising association between tea consumption and diabetes which if confirmed in further studies indicates further health benefits for tea beyond the well-established cardiovascular benefit.
Diabetes is affecting increasing numbers of the population and potentially could cost 17 per cent of the health care budget. Drinking 3-4 cups of tea each day has benefits for the heart and could also have benefits for glucose metabolism, inflammatory markers and reducing the risk of diabetes."
Knock planes are diverted as heavy snowfalls hits the west of Ireland

About 500 passengers on incoming flights from Britain ended up in Shannon today (Monday) because of heavy snowfall at Ireland West Airport Knock.
Morning flights from London Stansted, Liverpool, East Midlands and Luton were all diverted.
Affected passengers were all bussed from Shannon back to Knock.
A major operation to clear the runways continued at Knock all morning. As a result planes to carry outbound passengers to UK destinations were able to land and take off in the afternoon.
Photos of Sligo and Leitrim that are pure WB Yeats like poetry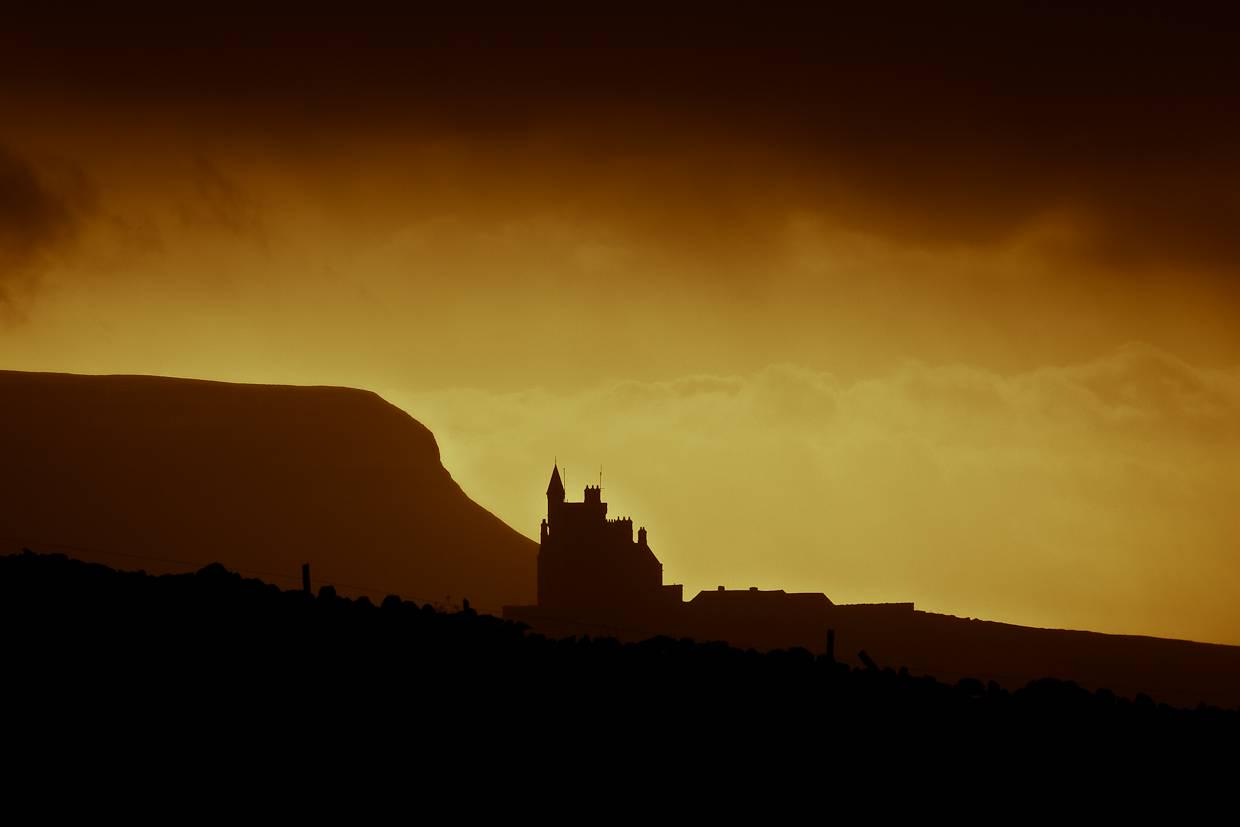 "On a recent hike with Northwest Adventure Tours, we come across this mound; it looked like a glacial slide had pushed it down and left a nice viewing point to stand upon."
The desolate landscapes of Sligo and Leitrim aren't just a fitting subject for poetry, as Colin Gillen's photographs above show.
Gillen is a professional photographer living on the Sligo coast, and he spends his days shooting what he calls "the amazing, light-filled playground of a landscape that is Yeats Country".
W.B. Yeats was a regular visitor to Sligo and Leitrim, with local features like Ben Bulben, Glencar and Inishfree familiar to many through his poetry.
But words aren't the only way to celebrate unforgettable landscapes.
A good photo, as we all know, is worth 1,000 of them.
By day working for local and national media, Gillen is also a keen musician with a reputation as one of Ireland's top music photographers.
But it's his stunning eye for Sligo and Leitrim that caught our attention.
From the tiny human forms caught in magnificent landscapes (or monster waves) to simple, almost painterly shots of bohareens and lakes, his photos like

Lissadell House

draw you into the waters and the wild country of Sligo inviting you to explore Yeats Country all over again.
You can find out more about Colin and his photos on framelight.ie, on Facebook here, and about hiking and adventure guides in Sligo on northwestadventuretours.ie.
For more on Yeats 2015, a programme of events celebrating the 150th anniversary of the poet's birth, see yeats2015.com.
What would it be like to live on Mars?
The idea of living on Mars has been a staple of science fiction since the 19th century, when American astronomer Percival Lowell speculated that the channels on the Red Planet were really ancient canals built by intelligent extraterrestrials.
But if this sci-fi dream were to ever become reality, what would it be like to actually live on Mars?
NASA is now planning for a manned mission to Mars, which is slated for the 2030s.
It's unknown where astronauts will land on Mars for that mission, but for a future Martian space colony, "you'd probably want a permanent base somewhere in the low northern latitudes," Ashwin Vasavada, a deputy project scientist for NASA's Mars Science Laboratory, told Space.com.
Like Earth, Mars has seasons due to the planet's tilt upon its axis, but it also has a secondary seasonal effect because of its highly elliptical orbit. The southern hemisphere is pointed away from the sun when the planet is farthest from it, resulting in far colder winters (and far hotter summers) than those in the northern hemisphere.
If you were to live in the northern hemisphere, you'd enjoy about seven months of spring, six months of summer, a little more than five months of fall and only about four months of winter. (A year on Mars is about 1.88 Earth years, and a day lasts a little more than 24 hours.)
The average temperature on Mars is minus 80 degrees Fahrenheit (minus 60 Celsius), but temps can range from minus 195 F (minus 126 C) in winter near the poles to 68 F (20 C) during summer near the equator. The temperatures can also change dramatically within a single week.
Mars' temperature variations often result in powerful dust storms, which can sometimes shroud the entire planet after just a few days. Though these storms probably wouldn't physically harm you, the dust could clog electronics and interfere with solar-powered instruments, Vasavada said.
At just 1 percent the density of Earth's atmosphere, the Martian atmosphere is thick enough to burn up meteors smaller than marbles — meteors larger than that are relatively rare, so you'd be unlikely to get hit by them, Vasavada said. You also wouldn't have to worry much about volcanic and tectonic activity while living on Mars.
"The No. 1 thing an astronaut would be worried about is the radiation from space," Vasavada said. Unlike Earth, Mars doesn't have a global magnetic field and thick atmosphere to protect its surface from radiation.
If you were to experience some unfortunate incident, a message sent home to Earth would take an average of 15 minutes to get there. While not terribly long, "it's definitely annoying enough that it'd be hard to Skype with anybody," Vasavada said.
In terms of weather, you might see an occasional wispy cloud or cold morning frost because Martian air contains low levels of moisture from the polar ice caps. But you wouldn't find any storm clouds in the sky or raindrops hitting the ground.
With these clear skies, the Martian night is full of stars. Amateur astronomers would want to look out for Mars' moons, Deimos and Phobos, which can come out at the same time. These satellites, both of which are far smaller than Earth's moon, can also partially eclipse the sun during the day.
The daytime sky generally has an orange tint to it because of all the dust, Vasavada said. Sunrise and sunsets look similar to those on Earth during a very hazy day, except that the area around the sun is blue.
The surface of Mars offers up a few great opportunities for sightseeing. "If we were to completelycolonize Mars, there are certainly places that would become national parks," Vasavada said.
For example, Olympus Mons is the tallest volcano in the solar system, reaching 16 miles (25 kilometers) above its surrounding plains. Valles Marineris, on the other hand, is a giant system of valleys about the distance from Los Angeles to New York. And you'd also probably want to visit the Viking landers and Mars' tremendous polar ice caps, which sometimes get dry ice snowfall, Vasavada said.
But with a gravity that's only 38 percent of Earth's, getting around on Mars would be challenging at first. "Running and fast movements would probably take quite a bit of relearning," Vasavada said. "But it'd be better than moving around on the moon."