Oxfam report accuses Ireland of facilitating tax avoidance by European banks
OXFAM REPORT CLAIMS 16 OF EUROPE'S TOP 20 BANKS BOOKED PROFITS HERE IN 2015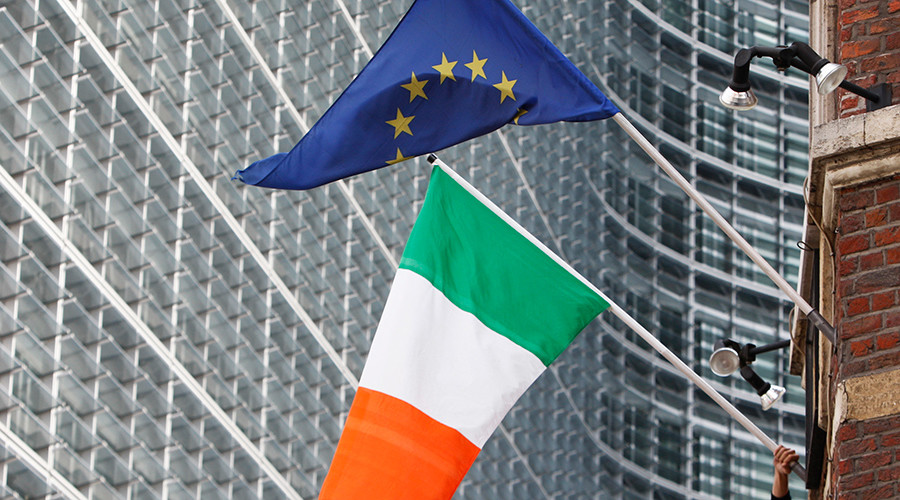 The 16 top European banks operating in Ireland examined by the report paid an average effective tax rate here of no more than 6%.
Ireland has been accused of facilitating large-scale corporate tax avoidance by European banks. A report by Oxfam and the Fair Finance Guide International said a "disproportionate" amount of profits generated by these institutions are being booked through Ireland.
The research found 16 of Europe's 20 biggest banks had reported profits here in 2015. It said these banks had generated €2.3 billion in profits in Ireland on €3 billion of turnover. That equates to a profitability rate of 76 per cent, four times higher than the global average. Only the Cayman Islands had a higher average profitability rate at 167 per cent.
Responding to the report, the Department of Finance said it rejects any allegations that the State is a tax haven. In a statement, it said: "Ireland does not meet any international definition of being a tax haven. We only have and want real substantive foreign direct investment, the kind that brings real jobs and investment into Ireland. Ireland is also fully compliant with all international best practices in the areas of tax transparency and exchange of information."
The report said Ireland appears to be "a very productive location" for European banks with just the Cayman Islands, Curacao and Luxembourg having a higher average profit per employee.
An average employee in Ireland generated €409,000 in profits in 2015, more than nine times the average for employees worldwide.
It pointed to Spanish bank BBVA Compass as an example. That bank's employees generated on average a profit of €33,000 each, but its average employee in Ireland generated €6.8 million, which is more than 200 times as much.
The 16 top European banks operating in Ireland examined by the report paid an average effective tax rate in Ireland of no more than 6 per cent , half the statutory rate of 12.5 per cent, with three banks (Barclays, RBS and Crédit Agricole) paying no more than 2 per cent.
Oxfam said countries were being denied large amounts of potential tax revenue by corporate tax avoidance.
This was contributing to inequality and poverty with governments forced to decide between increasing indirect taxes such as value-added tax (VAT), which are paid disproportionately by ordinary people, or cutting public services, which hits the poorest hardest.
It also said increased profits as a result of lower corporate taxation benefit wealthy companies' shareholders, further increasing the gap between rich and poor.
"The massive profitability levels of European banks in Ireland suggests that large profits may be reported in Ireland as a tax avoidance strategy," Oxfam Ireland's senior policy and research co-ordinator Michael McCarthy Flynn said.
"This is creating little additional benefit to the Irish economy and tarnishing Ireland's reputation," he added.
Oxfam's report suggested tax havens accounted for 26 per cent of the profits (an estimated €25 billion) made by the 20 biggest European banks but only 12 per cent of banks' global turnover and 7 per cent of the banks' employees.
This was out of proportion with the real level of economic activity that occurs in these jurisdictions.
While there may be legitimate business reasons for booking high profits in some cases, the report suggests that discrepancies may have arisen because some banks are using tax havens to avoid paying their fair share of tax, to facilitate tax dodging for their clients, or to circumvent regulations and legal requirements.
No Stormont agreement & no budget, "So what happens next"
FAILURE TO AGREE A POLITICAL DEAL AT STORMONT MEANS NO BUDGET WILL BE PASSED FOR THE NEW FINANCIAL YEAR, WHICH BEGINS NEXT WEEK. SO, WHAT HAPPENS NEXT?
The lack of a budget does not mean public services will grind to a halt.
Instead, the most senior civil servant at the Department of Finance, David Sterling, will use emergency powers to keep the money flowing.
On Wednesday, he will gain immediate control of a sum of money equivalent to 75% of this year's budget.
Section 59 of the Northern Ireland Act allows him to use that money "for such services and purposes" as he directs.
Community groups vulnerable
In practice, that will mean funding existing services at their current level.
In January, Mr Sterling told a Stormont committee that he viewed this only as an interim measure.terling will shortly become the man holding the purse strings at Stormont
"It is purely a stopgap to ensure that business continuity prevails and that departments have the cash necessary for them to run their services until such times as a budget act is put in place," he said.
On the whole, these emergency measures should not mean cuts to services in the short term.
However, voluntary and community groups which receive government funding on a year-to-year basis could be vulnerable.
They do not have certainty that their funding will continue and some organisations have already warned staff they are at risk of redundancy.
Health service difficulties
This extraordinary situation could also be storing up trouble for later in the financial year, particularly for the health service.
Mr Sterling told MLAs that the Department of Health "faces real difficulties in this scenario".
"The quality of service provided will depend on the pattern of spend that the department is allowed to incur from the beginning of April," he said.service is set to face "real difficulties" in the absence of a budget
"So, some big decisions need to be taken around that – I cannot say what those decisions are.
"Obviously, from my perspective, it is better that it is ministers who are taking those decisions."
If we get as far as July and there is still no budget then the situation becomes critical.
The law says that Mr Sterling will then have the right to spend an amount equivalent to 95% of this year's budget across the whole of the financial year.
That will effectively mean in-year cuts of least 5% across the public service.
Resources seriously squeezed
There are other complications – Stormont has not set a regional rate so rates bills cannot be issued.
Households and businesses will get a bill at some point, but it is not clear when.
subsidies for farmers will have to come from Mr Sterling's pot of money
Councils, which rely on rates revenue, will instead get their money directly from Mr Sterling's pot, but that cannot go on indefinitely.
The rules also mean that European farm subsidies cannot be paid out in the normal way.
Farmers will still get their money, but again that will have to come out of Mr Sterling's pot until such time as a budget is passed.
Resources could becomes seriously squeezed long before the end of the financial year.
One other thing to remember is that even in the absence of a crisis Stormont's budget was falling in real terms in the coming year.
When a budget is eventually passed, it will mean cuts anyway.
Sligo to retain ban on fracking in county development plan
COUNCIL CHIEF, BACKING ACTIVITY, CITES CONFLICT BETWEEN NATIONAL AND LOCAL GOVERNMENT NEEDS
RURAL FRACKING. CLLR DECLAN BREE SAID THE BAN HAD BEEN WELCOMED BY THE SLIGO COMMUNITY "WHO FULLY RECOGNISE THE DANGERS FRACKING POSES TO WATER QUALITY, TO HUMAN SAFETY AND TO THE GENERAL ENVIRONMENT".
Sligo county councillors have unanimously voted – for a second time – to have a ban on fracking included in the county's new development plan.
The councillors rejected a recommendation from council chief executive Ciaran Hayes that the ban, agreed last June, should be omitted from a new county development plan.
Mr Hayes said this was a situation where there was a conflict between the requirements of national government and local government.
He made the recommendation following a submission to the Draft County Development Plan 2017-2023 from the Department of Local Government suggesting that a ban on Unconventional Gas Exploration and Extraction would be "premature".
Fracking is the extraction of natural gas by pumping high pressure water and chemicals into shale formations deep underground.
In a separate submission, David Minton, director of the Northern and Western Regional Assembly (NWRA), said the proposed ban would be ultra vires (beyond one's legal power or authority) and should not be included.
Cllr Declan Bree (Independent) said the ban had been warmly welcomed by the community "who fully recognise the dangers fracking poses to water quality, to human safety and to the general environment".
He said he had "half expected" a pro-fracking commercial operator to make a submission seeking to have the ban removed. "Imagine my surprise when I heard that the submission seeking the removal of the ban was made by the Northern and Western Regional Authority," he said.
"Fortunately it is not regional assembly or the chief executive who ultimately decide what is included in our development plan – it is the elected representatives of the people of this county who will make the decision," he added.
In his submission, Mr Hayes said the NWRA had pointed out that placing a ban on certain exploration and extraction activities in Co Sligo was " beyond the legal powers of the county council".
He also pointed out that at the end of October 2016 the Dáil had passed the first stage of a Bill calling for a ban on fracking in Ireland. This Bill was introduced by Sligo-Leitrim TD Tony McLoughlin.
Irish researchers make a 'significant' diabetes finding?
HOPES THAT DISCOVERY MAY LEAD TO SCREENING TEST FOR THE MOST SERIOUS TYPE OF DIABETES
RESEARCHERS SAID THEIR DISCOVERY HAD THE POTENTIAL TO CONTRIBUTE TO THE IDENTIFICATION OF BIOLOGICAL MARKERS THAT PREDICT THE DEVELOPMENT OF TYPE 1 DIABETES.
Irish researchers have made a "significant" medical discovery they believe may ultimately lead to a screening test for the most serious type of diabetes.
The 3U Diabetes Consortium, composed of researchers from Dublin City University, Maynooth University and the Royal College of Surgeons in Ireland, published the finding in the online journal Diabetic Medicine this week.
They said it had the potential to contribute to the identification of biological markers that predict the development of Type 1 diabetes, a chronic autoimmune disease.
The research showed the presence of a substance called 12-HETE in blood samples provided by newly diagnosed Type 1 diabetes patients at Connolly Hospital Blanchardstown and the Children's University Hospital Temple Street.
This substance was not found in patient samples where the condition was already established, the researchers said.
"The elevated levels of 12-HETE, detected in early-onset Type 1 diabetes patients indicates the potential of this substance, in collaboration with other factors, to act as a biomarker for the onset of the autoimmune disease," they said on Monday.
Analysing samples?
They will now turn their attention to analysing retrospective samples from patients who subsequently developed Type 1 diabetes.
"If 12-HETE is found in samples from people prior to diabetes onset, the researchers are hopeful that it can ultimately be used, in conjunction with other biomarkers, to develop a screening test for Type 1 diabetes among the general population," the research team said.
Type 1 diabetes is caused by the body's own immune system destroying the cells in the pancreas that make insulin, the hormone that helps the body use glucose for energy.
It usually occurs in childhood or early adulthood. It can develop extremely rapidly and requires life-long self-management of glucose monitoring, insulin injections, food intake and exercise.
The research team said early diagnosis of the condition was crucial to ensure the serious complication diabetic ketoacidosis did not develop.
Up to five children and teenagers are diagnosed each week in Ireland with Type 1 diabetes and one in 10 are affected by a late diagnosis which can result in critical illness.
Phenomenon
Prof Martin Clynes of DCU said it had been a "surprise" to the research team to discover the 12-HETE substance in people recently diagnosed with Type 1 diabetes. It was not present in people with the lesser form, Type 2, or in those who had established Type 1 diagnoses.
"It could be useful as a signal that children will go on to get Type 1," he added.
The researchers will now try to get access to data from other countries to study the phenomenon further.
The study, conducted over a period of three years and then peer reviewed, had received little in terms of core funding.
Prof Clynes said there had been some funding from the Health Research Board, but that in general the researchers had to "beg, borrow or steal" resources as they went along.
It was not as easy to get funding for diabetes research in Ireland as it was for cancer, he added.
"Diabetes is very poorly supported."
About 226,000 people in Ireland live with diabetes, with between 14,000 and 16,000 of those having the Type 1 form. About 2,750 of those are under 16.
Aliens are HERE on Earth and they will eventually TAKE OVER,
CLAIMS A NUCLEAR SCIENTIST

Brian Cox scientist (middle pic) says that aliens have killed themselves off so what?
A SCIENTIST HAS ISSUED A CHILLING WARNING THAT ALIENS ARE ALREADY HERE ON EARTH AND ARE BIDING THEIR TIME BEFORE UNLEASHING A FULL REVEAL.
Stanton Friedman,a nuclear physicist, (Above left Caption) is convinced there have been multiple visitations of Earth by aliens, who will ultimately quarantine us here on Earth.
The Canadian claimed there "was not a shadow of a doubt" the existence of intelligent aliens was being covered up by global governments as part of a so-called truth embargo.
Mr Friedman, 82, is a top Ufologist, who has been at the heart of investigations into the mysterious Roswell alleged UFO crash of 1947, after previously working on classified projects for American aerospace corporation McDonnell Douglas.
Speaking to Dailystar.co.uk, he said: "We have enough to prove without a shadow of a doubt that planet Earth is being visited [by aliens].
"This is kept from people because who would want the world in upheaval? There would be mass panic and distress.
"If they (the aliens) want to make themselves known, it's easy – they will."
He said recently declassified CIA files on UFO sightings were all part of the proof.
PROOF OF ALIENS? 'Lizard-like creature jumped on NASA Curiosity Rover'
'bearded face carved by ALIENS found on Mars' by scientists
So why does he say they are here?
Mr Friedman says aliens actually want to prevent humans colonising space and will ultimately quarantine us here for the greater good to prevent mankind travelling.
He said: "I think they are here. I think they are here to quarantine us, keep us from going out there.
"With our track record – we're evil."
But Mr Friedman claims our governments are trying to take advanatage of aliens being here by obtaining their technology to achieve world supremacy.
He said: "The first country to replicate [alien] technology will rule the roost if they can build it.
Documentary exposes 'truth' about aliens on the Moon
What happened to man 'bundled into van after stealing from Area 51?'
Scientist claims crop circle patterns are 'ALIEN messages'
We have enough to prove without a shadow of a doubt that planet Earth is being visited by aliens.
"It's political too – the US says 'are we ready to put out anything if the Russians don't or the Chinese don't'."
Mr Friedman, who has written extensively on Aliens and UFOS, has described this culture of secrecy as the world's "Cosmic Watergate" – a reference to the President Nixon cover-up scandal in the 1970s.
He now tours the globe giving talks on his beliefs at universities and conferences.
Some sceptics are not convinced by his arguments, however.
One poster on the forum skepticforum.com wrote: "Recently I was looking at some of Friedman's arguments for UFO's and against sceptics.
NASA astronaut 'saw bodies of dead Roswell aliens in video footage'
Former MoD expert says alien invasion could spark WW3
"Overall he did a pretty poor job of battling sceptics and proving his point.
"When he says he debunks the debunkers he makes sweeping generalisations and says sceptics ignore some 'big' cases even though many of them were looked at by sceptics.
"So my question is what's his point.
"He only uses old cases that were mostly debunked and just tries to discredit sceptics rather than provide non-speculative evidence."