Irish Government will not initially oppose the Fianna Fáil bill to tackle mortgage rates
CONCERNS HAVE BEEN RAISED ABOUT THE CONSTITUTIONALITY OF THE PROPOSAL
THE Irish GOVERNMENT HAS SAID IT WILL NOT INITIALLY OPPOSE A FIANNA FÁIL BILL THAT WOULD GIVE THE CENTRAL BANK GREATER POWERS TO TACKLE MORTGAGE INTEREST RATES.
This is despite concerns raised about the constitutionality of the proposal, which would give the Central Bank powers to force banks to reduce their standard variable rates (SVRs).
In a sign of the new political reality facing the minority government, Finance Minister Michael Noonan will attempt to move a motion in the Dáil this evening to send the bill back to pre-legislative scrutiny stage in the Oireachtas. But with Sinn Féin supporting the Fianna Fáil bill, the government could be defeated on this at which point it says it will accept the bill at second stage.
This would move it into committee stage where the various provisions of the Central Bank Variable Rate Mortgages Bill 2016 would be discussed at length by TDs and Senators. A government spokesperson said this morning that this was a sign of new politics in action.
Earlier, Noonan told reporters outside Government Buildings why he disagreed with the proposal from Fianna Fáil.
"If you have a central bank that doesn't want the power and it is not mandatory that they should use the power it seems to me to be destined to be a very ineffective piece of legislation that would go on the statue books but would never be used," he said.
Fianna Fáil says that the bill would effectively reduce the monthly repayments of some 300,000 people on standard variable rates. SVRs in Ireland are among the highest in the euro zone.
Hundreds of senior Gardaí protest about pay restoration
THE PRESIDENT OF AGSI SAYS GOVERNMENT MUST 'SIT UP AND TAKE NOTICE' OF GARDA CONCERNS?

MEMBERS OF THE ASSOCIATION OF GARDA SERGEANTS AND INSPECTORS MARCHED TO GOVERNMENT BUILDINGS TO PROTEST OVER PAY AND CONDITIONS.
SEVERAL HUNDRED SENIOR GARDAÍ MARCHED TO GOVERNMENT BUILDINGS ON TUESDAY IN A PROTEST OVER STALLED PROGRESS ON THE RESTORATION OF THEIR PAY TO 2008 LEVELS.
Members of the Association of Garda Sergeants and Inspectors, dressed not in uniform but wearing blue t-shirts, marched from Dublin Castle to highlight what they say is a lack of engagement by the Government in dealing with their pay issue.
The large group gathered near Dublin Castle from 11am and traffic came to a standstill about an hour later as they walked in near silence down Dame Street, up Suffolk Street and continuing down Nassau Street and up Merrion Street to Government Buildings.
They were briefly addressed by the organisation's general secretary John Jacob and its president Antoinette Cunningham, who handed in a letter for the attention of Tánaiste and Minister for Justice Frances Fitzgerald.
"I think Government need to sit up and take notice of the 650 people that have taken to the streets today in protest at Garda pay negotiations," Ms Cunningham said.
Group solidarity
She said she appreciated the support and solidarity of the members and their families on the march, as well as their Garda Representative Associationcolleagues and retired members who also joined them.
"We will continue this long and sustained campaign as long as it takes to get meaningful negotiation around pay," Ms Cunningham said.
Paul McDermott of the AGSI executive said members had rejected the Lansdowne Road agreement last November because the then government had not abided by the terms of the previous Haddington Road deal.
"We brought in all the new practices they wanted on the transformation agenda. Everything was done. We have engaged with the two chairmen – one covering pay and one covering structures and the chairman covering pay resigned from it last week. We're not sure why. We have not delayed this process at all."
Mr McDermott said members wanted the increment freeze stopped as it had "hit members hard".
"If we can get into meaningful talks we will be constructive and we want to see a pathway to having our money restored. Obviously it's going to be over a period of time. But through negotiation and not through emergency financial legislation and threats. Basically it's intimidatory – you sign up to this deal or we freeze your pay."
Mortgages and bills.
Mr McDermott said there were members in difficulty. "We are the same as the rest of society. We live in the community and we reflect it – we have the same mortgages and bills and childcare and some of them have difficulty with their homes under threat. Not everybody, but it reflects what happens in society and there are members in difficulty and they would like to see a pathway."
Mr McDermott said the mid-ranking roles in the force had "a lot of responsibilities".
"We are under supervision ourselves. And we have all the different structures such as GSOC and inspectorates looking at us over our shoulders. Our members are doing an awful lot they haven't done before."
Separately, uniformed gardaí were policing an anti-water charges protest outside Leinster House on Kildare Street. The AGSI protest did not come into contact with that event and the members dispersed down Merrion Street shortly after 1pm.
PROTESTING VOICES:
Sgt Donal Smyth, who is stationed in Navan, Co Meath, and who has been in the force for 34 years, said he was opposing the financial emergency measures being imposed on members from July 1st.
"We have nowhere else to go. You can't really impose a new agreement on people where the original one is not completed yet.
"I'm in a lucky position that I'm 9 to 5, but the people on the shifts are really struggling out there and it's not only that, it's the extra responsibilities on Garda sergeants. The transformation agenda is coming down the line since Croke Park. We have complied with everything and it's come to the point now that we are really struggling."
He said there were 15 new probationer gardaí in his area earning €23,000 per annum.
"I see them coming to try and get accommodation in Navan and things are so difficult. I remember when I joined the job back in 1982 and it's now 34 years later and we are now back to the same situation we were in when we started back then."
Sgt Smyth said he was lucky to be at the "tail end" as two of his boys were in college and one was working.
"But I remember going back to 1991 where our job sold out the pensionability of some allowances that we sold on some young people. It's not going to happen again – it's unfair."
He said 275 new sergeants who had been newly promoted this year would be on the same salaries for two years from July 1st without increments.
Sgt Paul Wallace (Letterkenny)
"I'm a former member of the executive and the last term and have been a member of AGSI for 23 years.
"We could be accused of being irresponsible or blocking up Dublin town, but we are actually being responsible and we'd ask the government to be the same.
"It's no longer one for Garda management – the game has moved on. But it's sad to see on a nice day in the middle of May passing Trinity College you have mid-ranking gardaí who basically are out to be responsible towards our younger people – the people who have been asked to go forward for promotion but won't receive an increment.
"It's a misnomer as well that people will say the guards are looking for a pay increase. "We're not; they promised to give it back and now it's time to start. We are not looking for the full 25 per cent and I'm not speaking on behalf of the executive but we need to have something meaningful."
Padraig Costello
"We hope that it will bring home to Government what is happening in AnGarda Síochána.
John Moloney
"We are coming towards the end game and we need to be listened to like a lot of other groups in the country. We will do it peacefully and quietly and with dignity and we will stick together for as long as this takes. And we'll be back here again and again."
Arthur O'Hara
Mr O'Hara, a retired member, said he did not agree with how gardaí were being deployed, particularly with regard to policing Irish Water installations.
"I think that's radically wrong and again we have always had the support of the vast majority of the community at large."
"We are not there for any special cause. We are there to serve the community. And I think we have done under very difficult circumstances and with totally inadequate resources, I think we do a bloody good job.
"I lost very close to 29% of my pension. That drove all kinds of things wrong. How could you budget for something like that?"
Irish Prisons now a dumping ground for mentally ill young men
WE HAVE AMONGST THE LOWEST NUMBER OF SECURE PSYCHIATRIC BEDS PER HEAD OF POPULATION IN EUROPE
The great majority of young men and women remanded to Irish prisons while actively unwell with diagnoses of severe and enduring mental illnesses have fallen through the net of a public mental health system which is not designed to meet their needs.
Despite having one of the highest levels of severe mental illness when compared with other advanced European nations, Ireland has fewer adult psychiatric beds than almost any other country in Europe.
New research looking at the number of beds across the EU shows we have even fewer secure (forensic) psychiatric beds compared with other countries.
Psychiatric bed numbers in Ireland have fallen drastically, and since 2011 beds have fallen to below 20 per 100,000 people, where the European average is still over 40 per 100,000.
The beds that remain are on wards open to the public and to other wards in the same hospital. It is often difficult to care safely for young people with disturbed and challenging behaviour due to acute delusions and hallucinations in such wards.
With the closing of the old-style asylums across Europe, many countries recognised that, even with the development of community mental health services, there would always remain a significant need for some inpatient beds. They are required so the most unwell and difficult to treat patients could receive the help they need in a stable and safe therapeutic environment.
Unfortunately we have failed to plan for the needs of such patients in this country, and the most unwell and difficult to treat patients increasingly find themselves either homeless or placed in prison rather than treated in hospital and supported in the community. Strangely, these well known facts are regarded as neither a failure of policy nor a cause for shame.
In 2016 the current 10-year plan, A Vision for Change will have run its course. It is timely to wonder what policy reforms will come next. A Vision for Changehas led to considerable positive achievements. The experts who drafted the policy should be congratulated for the universal adoption of the ethos and language of recovery. However, while recovery is a commendable policy priority, it is not the same as cure, and it is increasingly obvious that people with severe, enduring and disabling mental illnesses have lost out in the recent changes that our mental health service has undergone.
Replaced asylums?
People who have complex and difficult to treat problems are excluded from a "mental health" model that struggles to include the needs of those with severe, enduring and disabling mental illnesses.
Many of the acute inpatient psychiatric units which replaced asylums lack the short-term high observation units that could provide for the complex needs of such patients. Across the modern world, such patients are provided for in acute local psychiatric intensive care units.
Typically, in other European countries there are 10-15 beds serving every 250,000 people. This contrasts with Ireland, which has only 30 such beds in the entire country. Again, in other European countries the closure of the old asylums has been compensated for by opening high quality, therapeutically secure, forensic psychiatric hospital beds.
Ireland has not developed any such system and the number of forensic psychiatric beds at the Central Mental Hospital has stayed static at about two beds per 100,000 people.
In England and Wales, by contrast, asylum closures over the last 30 years have been associated with the development of a system of more secure forensic hospital beds so that there are now 7.5 secure forensic beds per 100,000 for the mentally ill.
Scotland, Northern Ireland, the Netherlands, Germany, Austria and many other modern mental health services provide between eight and 10 forensic secure beds per 100,000 population. Not surprisingly, Irish prisons have increasingly become the emergency department "trolleys" for young men with any form of psychotic mental illness. The great majority of young people remanded to Irish prisons, while actively unwell with diagnoses of severe and enduring mental illnesses, are charged with very minor offences.
These patients have fallen through the net of a public mental health system which is not designed to meet their needs. Mental health legislation has reformed the rights of people detained for care and treatment, and further reform is needed. But reforms that exclude mentally incapable people from access to care, treatment and protection do them a disservice – it is already too difficult to intervene when a person with a severe mental illness is obviously relapsing and at risk of self-harm and neglect.
Violence is rare occurrence?
Fortunately, Ireland is an inherently peaceful country where violence is rare and we are very tolerant of the mentally ill. Tolerance, however, is not enough when young people with the most severe, enduring and disabling mental illnesses are ill-served by policies that fail to meet their needs. To be able to engage with community services, it is almost always necessary to first have the benefit of the acute treatment needed to restore the basics of mental health.
The next Vision for Change should help to direct resources towards services that are demonstrably effective in engaging and retaining severely mentally ill people to prevent homelessness and imprisonment. Should we fail to do this we are at risk of repeating the kind of discrimination and inhumane treatment which the closure of the asylums and the development of community mental health teams were designed to remedy. Harry Kennedy is clinical professor of forensic psychiatry at the Central Mental Hospital. He is writing in a private capacity
Smoking laws will not be relaxed says new health Minister Simon Harris
MINISTER FOR HEALTH FULLY COMMITTED TO MAKING IRELAND TOBACCO FREE BY 2025
THE MINISTER FOR HEALTH SIMON HARRIS SAID THE SMOKING BAN HAD BEEN A REAL SUCCESS AND HE HAS INSISTED THERE WILL BE NO RELAXATION OF THE SMOKING BAN LEGISLATION.
Mr Harris said he was totally committed to the Programme for Government pledge to make Ireland tobacco free by 2025.
He said the smoking ban had been a real success and it was his and the Department of Health's position that it should remain in place.
Mr Harris was speaking after Minister of State at the Department of HealthFinian McGrath called for an easing of the workplace smoking ban to allow indoor smoking areas in pubs and restaurants.
Asked at Beaumont Hospital on Monday whether Mr McGrath said he supported Government policy on making Ireland tobacco-free by 2025, he said he had his own personal view but "of course" he would support the policy on health.
He said he also supported proposals in the Programme for Government to increase the price of cigarettes, despite having opposed previous excise hikes.
The Irish Cancer Society welcomed the comments from Mr Harris and said Ireland had "led the way in tobacco control measures, showing courage in tackling smoking rates and the tobacco industry".
"We hope our strong record on progressive public health policies continues well into the future," it said.
Maternity Hospital row?
Mr Harris also confirmed he would be meeting St Vincent's Hospital and Holles Street management to dissolve the row over the location of the new National Maternity Hospital.
He said he would be asking both sides to "lower the tempo" a bit and bring a timely conclusion to the row. The expertise is excellent but the conditions were "absolutely deplorable", he added.
"I would ask both sides to make one last push to get this resolved."
The National Maternity Hospital is currently struggling to maintain a service in Holles Street, while St Vincent's Hospital in Dublin 4 is seeing an increase in waiting lists and dangerous levels of emergency overcrowding.
It is proposed a new facility be built at St Vincent's. However St Vincent's is adamant that it must take over the governance of the facility, which has been rejected by the board of the National Maternity Hospital.
Mr Harris said governance was important but it should not prevent the facility being built.
"I will not let this hospital be lost over a bureaucratic row."
Genetic clues reveal how Giraffes got their long necks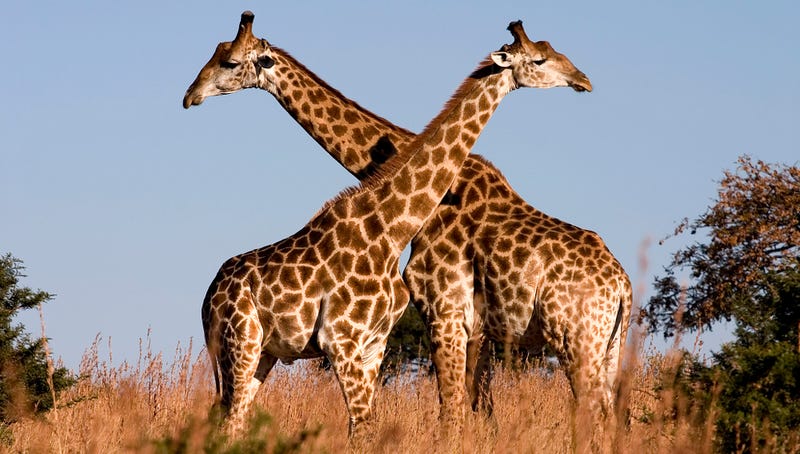 FIGHTING GIRAFFES (ABOVE LEFT) IN ITHALA GAME RESERVE, NORTHERN KWAZULU-NATAL, SOUTH AFRICA.
For the first time ever, scientists have sequenced the genome of the world's tallest land species, the giraffe. Surprisingly, this majestic creature required only a small handful of mutations to attain its remarkable physical stature and physiology—but these mutations packed an evolutionary punch.
With their long necks and elegant strides, giraffes have captivated humanity for thousands of years. But there's more to these animals than their height, which can reach upwards of 19 feet (6 meters).
Adult male Masai giraffe in the Mikumi National Park, Tanzania. (Image: Doug Cavener)
Giraffes are surprisingly swift runners, capable of sprinting 37 miles per hour (60 km/h). They also need to pump blood nearly seven feet (two meters) straight up in order to supply their brains with an ample oxygen supply. To that end, giraffes have evolved a rather large left ventricle, and a blood pressure that's about twice as high as other mammals. They're also capable of digesting acacia leaves and seed-pods highly nutritious foods that are poisonous to most other animals.
The reasons for the giraffe's long legs and neck are fairly obvious, and have been discussed since before the time of Darwin. Biologist Jean-Baptiste Lamarck famously argued that giraffe necks needed to get longer so they could reach food way up high (i.e. "Lamarckian evolution"). He was almost correct. As Darwin later pointed out, their necks were the result of selectional processes; only those animals with necks long enough to reach the tallest branches thrived and survived.
This much we knew, but scientists weren't sure about the exact biology involved, and how giraffes, from a genetic perspective, evolved their panoply of characteristics. Its closest living relative, the okapi, looks more like a zebra than its lanky cousin, so there aren't other "intermediate" species to go by.
In an effort to learn more about the genetic constitution of the giraffe—and to paint a clearer picture of its evolutionary history—scientists from Penn State University sequenced the entire giraffe genome (along with the okapi genome), making them the first to do so. The results, which now appear in Nature Communications, are offering intriguing insights into how the giraffe's unique body shape evolved.
To isolate the genes responsible for the giraffe's unique characteristics, a research team led by Douglas Cavener and Morris Agaba compared the gene-coding sequences of the giraffe and the okapi to more than 40 other animals, including cows, sheep, goats, camels, and humans. Despite the giraffe's unique appearance and physiology, the researchers came up with just 70 genes that were responsible for some of the giraffe's most distinctive adaptations.
As noted, the giraffe and okapi feature genetic sequences that are quite similar. The two species are very closely related, having only diverged from a common ancestor about 11 to 12 million years ago. Aside from their heads and hooves, these animals look almost nothing alike, but genetically, there's very little to distinguish the two species. By studying the okapi genome, the researchers were able to use it as a kind of genetic filter to pinpoint the genes that make a giraffe a giraffe.
The researchers sequenced the whole genomes of two female Masai giraffes from the Masai Mara reserve in Kenya and the Nashville Zoo in the United States, and one male okapi from the White Oak Holdings in the United States. Among the 70 distinctive genetic mutations discovered, over half of them coded for proteins that regulate development of the giraffe's skeletal, cardiovascular, and nervous system. Interestingly, several of these genes showed signs of multiple adaptations, meaning they confer more than one benefit, or characteristic. For example, some genes control both cardiovascularand skeletal development. The researchers speculate that the giraffe's stature and "turbocharged" cardiovascular system evolved together through changes in a small number of genes.
An adult male Masai giraffe in Ndarakwai – West Kilimanjaro, Tanzania. (Image: Doug Cavener)
Cavener and Agaba discovered genetic clues that explain how the giraffe evolved such a long neck and legs which, despite their length, feature the same number of bones as the neck and legs of humans and other mammals.
"To achieve their extraordinary length, giraffe cervical vertebrae and leg bones have evolved to be greatly extended," said Cavener in a release. "At least two genes are required—one gene to specify the region of the skeleton to grow more and another gene to stimulate increased growth."
One of these two genes is called FGFRL1, and it plays an important role in the early development of an embryo. It also contributes to the rapid bone-growth phase after a giraffe is born. In fact, this gene has been associated with severe skeletal and cardiovascular defects in both humans and mice when it fails to express properly. This gene, in conjunction with four homeobox genes—which are involved in the development of body structures—provides two of the required elements for the evolution of the giraffe's long neck and legs.
"What we think has occurred then, is the giraffe evolved a long neck, which occurred over roughly a 15 to 20 million year period, and as its neck extended out, its cardiovascular system was also changing in tandem—and that some of the same genes were actually controlling both processes in concert," noted Cavner in an accompanying video.
Finally, the researchers also discovered a group of genes that regulates metabolism and growth. These are genes that are likely responsible for the giraffe's ability to metabolize acacia leaves and seedpods, which many other mammals find toxic.
Moving forward, the researchers would like to fuse the FGFRL1 gene into the mice genome to see how it affects their growth, particularly in its spine and legs. This could eventually lead to treatments in humans who are suffering from skeletal abnormalities and other physiological ailments. The sequencing of the giraffe genome, it would appear, is a scientific effort that's extending beyond the scope of just zoology and evolutionary biology.