Ireland's residential property prices go up 7.1% in year to October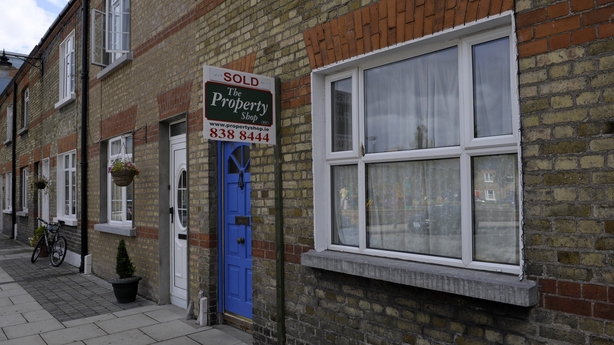 DUBLIN REMAINS THE MOST EXPENSIVE PLACE IN THE COUNTRY TO BUY A PROPERTY, WHILE CO LONGFORD HAS THE CHEAPEST PRICES.
Residential property prices nationwide rose by 7.1% in the year to October, new figures from the Central Statistics Office show.
The CSO said this compares to growth of 4.4% the same time last year.
Dublin property prices increased by 5.5% in the year to October, with house prices up 6.1% and apartment prices rising by 4.1%. Dublin prices remain the country's most expensive.
Within the Dublin area, the CSO noted the highest price increases were in Dublin City (at 7.5%), while the lowest growth rate was seen in Fingal with prices up 3.4% there.
Meanwhile, residential property prices in the rest of the country jumped by 10.2% in the year to October.
Houses prices rose by 10.3% with the Midland regions showing the fastest growth rate of 16.6%, while the Mid-East region saw the slowest growth rate of 6.1%.
Apartment prices in the rest of the country outside of Dublin rose by 9.3% in the year to October.
In October, the average market price paid for a new residence was €250,147. The CSO said that the average market price paid by households over 12 months – a more stable measure of price – was €235,750.
In the year to October, the average price paid for a home was higher in Dublin than in other region or county, with the average price amounting to €386,657.
After Dublin, the next most expensive region was the Mid-East, where the average market price was €238,492.
Within this area, Co Wicklow was most expensive, with an average price of €314,690.
The least expensive region for household purchases over the last 12 months was the Border region, with an average price of €112,586.
But the cheapest price for houses was seen in Co Longford, with an average price of €83,420
Today's CSO figures show that from the lows reached in early 2013, property prices nationally have increased by 48.4%.
During this time, Dublin residential property prices have increased 64.7% while residential property prices in the rest of the country are 44.7% higher.
They also show that when measured by value, the housing market has increased by 6.8% from €762.9m to €815m in the 12 months to October.
Commenting on today's CSO figures, Davy economist Conall Mac Coille said the latest monthly rise has softened slightly from the exceptionally strong gains through the summer – 2.4% in July, 1.4% in August and 1.5% in September.
But the economist said that the October increases were stronger than had been expected.
Mr Mac Coille said that house price inflation in 2017 will be stimulated by the relaxation of the Central Bank's mortgage lending rules and the Government's "Help-to-Buy" scheme.
This provides a 5% tax rebate, worth up to €20,000, for first-time buyers of newly built homes.
Why we have occupied Apollo House
WE HAVE 193,000 HOMES WITHOUT PEOPLE AND 6,500 PEOPLE WITHOUT HOMES
JIM SHERIDAN AND BRENDAN OGLE OF 'HOME SWEET HOME' AT APOLLO HOUSE AT POOLBEG STREET, DUBLIN.
It's been just over two years since Jonathan Corrie, a homeless man, was found dead yards from Dáil Éireann as our elected parliamentarians went to work.
Jonathan's 16-year-old son Nathan said today after the death of his father who had left Carlow because he did not want his family to see him in difficulty. Jonathan was 43 years old. Young yes, but the life expectancy for a homeless man is 44, and for a woman just 38.
Sixteen people died on our streets between 2011 and 2014 and the graph has been rising since. You might remember Jonathan's name but will you remember the names of the other 15? The people dying now hardly merit a footnote on the national daily news stories about 'recovery' 'growth'; so much bombast and bluster, and alongside it the reality of so much unnecessary death and suffering.
It is to our national shame that neither Jonathan's death, nor that of any of the others before or since, has shocked us into addressing the root causes of homelessness. The situation has gotten exponentially worse: homelessness has risen 40 per cent in the last year alone. We are a nation that, in 2016, cherishes none of its children equally.
I got a phone call from a friend in the music industry recently who is also a Trojan community activist in his native Ballymun. Dean Scurry, who I first met through the Right2Water campaign, told me how many of Ireland's artists and poets, actors and film directors wanted to do something to address this human crisis. I knew one or two of them a little. Glen Hansard had done me the honour of launching a book I wrote recently about the water campaign and our dreadful, policy driven, inequality. Damien Dempsey has performed at Right2Water events and people like John Connors and Terry McMahon feel the pain of our broken nation deeply.
Others too were on board: 'Christy', Jim Sheridan, Kodaline, Saoirse Ronan, the list went on. Dean had an idea. Could a citizen-led intervention take homeless people off the streets until the Government got around to housing them? The artists would be open to supporting such a move if it had as its objective the creation of a home for people forced to live on our streets. It was the lads from Kodaline who stated "we have homes without people, and people without homes" when confronted with the startling statistic that while we have 6,500 people officially homeless including 2,400 children, that the census shows we have a whopping 193,000 empty homes in Ireland, excluding holiday homes.
Socialising private debt.
And then there's Nama. The bad bank that was used to socialise private debt and bequeath to us buildings all over our landscape that lie fallow while people get soaked, freeze, go hungry and even die below. Did I think we could get access to a Nama property? 'We' owned it after all. It took about a week to find a property we could access with some assistance and eventually Apollo House, a former social welfare office now closed down, came into our possession.
This has been tried before. The wonderful Irish Housing Network and many other groups have been trying to provide support for our homeless people for a long time. But never in a Nama property and never with such support. So a loose coalition was formed. We all had different tasks, but the same motivation. Could we arrive at a situation where nobody, at least in Dublin, is forced to be without a roof and 'home' for this Christmas and beyond?
There are wonderful videos involving Jim Sheridan, Glen and many others and I hope, we all hope, that these efforts may force us all to look inwards and stop this madness. And it is madness that can be easily stopped. In recent years governments have given more than €2.7 billion in tax cuts disproportionately benefiting the wealthiest and corporations. Did you get any of that? Did it change your life? No, me neither. But it could have built over 10,000 homes each year. It could have changed the life of every homeless person, of every homeless child, and ultimately cleared social housing waiting lists.
Homelessness is a result of poor, or cruel, political policy decisions. I prefer to think of them as just poor. Otherwise, what have we become as a society?
Ultimately homelessness and its causes will only be resolved by a movement in policy towards housing that is based on citizenship as much as profit, that puts human decency above uncaring ideology.
I do not know how 'Home Sweet Home' will work out, but whatever differences we all have, can we please resolve to end this cruelty? The gardaí who came to Apollo House last night praised the volunteers and confirmed the event as peaceful and well organised. They toured the building checking the welfare of the homeless people who were sleeping in private rooms on new mattresses for the first time in a long time. We told them that Apollo House was a 'dry house' for genuinely homeless people, well-resourced and taken care of. So please help in any way you can.
Tonight there are people sleeping in a safe and secure building with heating and electricity, and if it wasn't for this intervention of artists and citizens they would be in doorways and alleyways. I have no doubt this intervention, with your support, can save lives. To find out more about how you can help please go to homesweethome.irish
Emergency 65 bed hostel in Dublin can open until legal row resolved
Independent TD Katherine Zappone children's Minister (left pic.).
THE 65-BED CARMAN'S HALL FACILITY WAS ONE OF FOUR IN THE CITY BEING SET UP TO HELP ADDRESS HOMELESSNESS
A judge has ruled that an emergency hostel for the homeless in the Liberties in Dublin can be open until the legal row over the use of the facility has been determined.
The opening of the temporary hostel in the converted Carman's Hall, which had been used as community centre until it shut in 2013, in Francis Street has been halted due to a legal challenge by the Carman's Hall Interest Group, the Michael Mallin House Residents and a youth and community worker, Elizabeth O'Connor.
The residents want the facility reopened as a community centre and have secured permission for judicial review of the Council's decision allowing the centre be used as a hostel to deal with the homeless emergency.
The court's permission for judicial review proceedings also acted as a stay on the hostel opening.
Because of the current homeless situation Dublin City Council, which opposes the resident's challenge, asked the court for the stay to be lifted pending the outcome of the full hearing.
Lawyers for the residents argued the stay should remain in place.
In his ruling Mr Justice Seamus Noonan said he was satisfied the balance of justice lay in lifting the stay preventing the facility from being used as an emergency hostel until the full dispute has been determined.
The judge said when considering the application he had to take factors into account such as the residents inconvenience and the needs of one of "a very vulnerable section of society" particular during the winter months.
The judge said he noted the residents concerns.
However evidence was given to the court about the homeless crisis that the number deemed homeless in Dublin city, has increased from 3,700 to 5,000 in the period between September 2015 and September 2016.
While the number of rough sleepers in the city fluctuates evidence had been given that emergency hostel facilities are currently at capacity, the judge said.
The Carman's Hall facility the judge said is to be run by groups that considerable expertise in working with the homeless.
In the circumstances the court was satisfied to lift the stay.
The judge, noting the urgency of the matter, had previously listed the full hearing of the case for 18 January.
The residents he said have challenged council's decision of 24 October allowing for a change of use of Carman's Hall to a hostel.
As part of their challenge the residents, and their expert, say that going ahead with the hostel without going through the public consultation process amounted to a material contravention of the city development plan, the judge said.
He said the council, and their expert, disputes that claim and maintains it was entitled under the planning laws to allow the centre be converted into a hostel for the homeless.
This argument clearly was a "complex question of law," the judge said.
However the judge said that at this stage the court was not deciding on the merits of either sides arguments which would be matters to be determined at the full hearing of the case.
Declan McGrath SC, with Niall Handy BL, for the residents, said their concern is about an "undue concentration" of homeless and social support services in the south inner city.
There are 12 homeless and social support services within 500m of Carman's Hall and more than 660 people deemed homeless are being accommodated in Dublin 8, compared to 78 in Dublin 4 and "none whatsoever" in Dublin 6W, he said.
James Connolly SC, with Stephen Dodd BL, for the Council, argued the stay should be lifted due to the number of vulnerable rough sleepers on the streets at this time of year.
The Council has already spent about €930,000 converting the building into a hostel after acquiring it under a five-year lease from its owners the Dublin Catholic Archdiocese, he said.
Dublin City Council had not committed to using the premises as a hostel beyond the 2017-18 winter period.
The 65-bed Carman's Hall facility was one of four in the city being set up to help address homelessness and was offered by the local parish priest to help with the homeless emergency, counsel said.
A survey carried out on 22-23 November found 142 rough sleepers in Dublin but that situation was fluid and facilities for the homeless are currently full up with people being turned away, the court heard.
Bank of Ireland admits to over-charging thousands of its Irish mortgage customers
THE BANK OF IRELAND HAS ADMITTED OVER-CHARGING THOUSANDS OF ITS MORTGAGE CUSTOMERS AND IT IS THE LATEST TWIST IN THE TRACKER MORTGAGE SCANDAL.
The bank had already restored 2,100 customers to good value tracker rates in 2010.
Now it says it has found another 600 cases where homeowners were wrongfully denied a low-cost tracker rate.
And the bank said another 4,000 mortgage customers do have trackers, but they were paying too much interest, the bank said.
It is understood that most of the mortgage holders either denied a tracker or charged the wrong tracker margin were bank staff.
However, the bank would not say how many of the latest cases relate to staff..
In a statement, it said: "The Bank of Ireland Group would like to sincerely apologise to each of these customers for these failures. The correct rate should have been applied to these accounts and we sincerely apologise for not applying the correct rate in these cases."
Almost all lenders are being forced to probe their mortgage books and identify customers denied a tracker, or put on the wrong tracker interest rate, over the last eight years.
Banks had denied people trackers when interest rates rose in 2009, as these people opted to fix their mortgage rate, but then could not get back their tracker.
AIB has around 3,000 tracker-denial cases, with 2,000 at Ulster Bank.
Permanent TSB has had to compensate 1,400 customers over the tracker scandal. Its subsidiary, Springboard, was fined earlier this month over the issue.
Ageing can now be reversed, according to a new study
RESEARCHERS HAVE NOW MANAGED TO TURN BACK THE CELLULAR CLOCK USING STEM CELL TECHNIQUES.
AGEING CAN BE REVERSED BY ADOPTING AN APPROACH USED BY STEM CELL SCIENTISTS TO TURN BACK THE CELLULAR CLOCK, NEW RESEARCH SUGGESTS.
In laboratory experiments, researchers rejuvenated human skin, increased the lifespan of mice with a premature ageing disease by 30 per cent and accelerated healing.
Although the work is at a very early stage, they believe it could open the door to "fountain of youth" anti-ageing treatments that would help us live longer and look younger.
The research developed from techniques used to create stem cells with embryonic properties from reprogrammed adult cells.
A key part of the process of producing such "induced pluripotent" stem (iPS) cells involves the re-activation of four dormant genes known as "Yamanaka factors", named after Japanese stem cell pioneer Shinya Yamanaka.
In the new study, scientists activated the genes intermittently and found they were able to turn back the ageing clock without cells losing their adult identity.
Dr Pradeep Reddy, from the Salk Institute in California, said: "In other studies, scientists have completely reprogrammed cells all the way back to a stem cell-like state.
"But we show, for the first time, that by expressing these factors for a short duration, you can maintain the cell's identity while reversing age-associated hallmarks."
The genes have to be handled with care because the rapid cell division seen in embryos could be a hallmark of cancer in adults.
Having large numbers of cells revert to an embryonic state in an adult also raises the risk of organ failure and death.
But mice with the premature ageing disease progeria did not develop cancer and appeared to thrive after receiving the treatment.
Compared with untreated mice, they looked younger, the performance of their hearts and other organs improved, and they lived 30 per cent longer.
In normal ageing mice, the intermittent activation of Yamanaka factors led to improvements in the regenerative capacity of pancreatic tissue and muscle.
Injured pancreas organs and muscle also healed faster in otherwise healthy ageing mice that were reprogrammed.
Rejuvenation of a person?
Prof Juan Carlos Izpisua Belmonte, who led the Salk team, said: "Obviously, mice are not humans and we know it will be much more complex to rejuvenate a person.
"But this study shows that ageing is a very dynamic and plastic process, and therefore will be more amenable to therapeutic interventions than what we previously thought."
In the experiments, the mice were treated by spiking their drinking water with a chemical, doxycycline, that activated the four genes.
Continuous activation of the genes resulted in significant weight loss and death after four days, said the researchers, writing in the journal Cell.
This was avoided by switching to a cyclic regime consisting of two days of doxycycline treatment, followed by five days of withdrawal.
Hairy chested new crab species found near ocean floor hot springs
"WE CAN BE CERTAIN THAT THE NEW SPECIES WE'VE FOUND ALSO LIVE ELSEWHERE IN THE SOUTHWEST INDIAN OCEAN," SAID RESEARCHER JON COPLEY.
THE HAIRY-CHESTED HOFF CRAB (ABOVE LEFT & RIGHT) WAS ONE OF SIX NEW SPECIES FOUND LIVING NEAR HYDROTHERMAL VENTS AT THE BOTTOM OF THE INDIAN OCEAN.
Researchers have discovered six new species living near hydrothermal vents on the sea floor.
The collection of hot springs, called Longqi, which translates as "Dragon's Breath," are situated 1,240 miles southeast of Madagascar, 1.7 miles beneath the surface of the Indian Ocean.
Unique communities of deep sea creatures are drawn to warmth emanating from Longqi's vent chimneys, mineral spires rising two stories in height.
In 2011, a team of scientists the University of Southampton, Newcastle University and London's Natural History Museum began exploring the vents with a deep-diving, remote-controlled submersible — the first survey of its kind in the region.
During their exploratory missions, scientists found six new species unique to the Longqi vents. First, scientists found a hairy-chested crab similar to the "Hoff crab" found near vents in Antarctica. Hoff crabs are a species of deep-sea squat lobster yet to be described in the scientific literature.
Researchers also discovered two species of snail, as well as a new species of limpet, scaleworm and deep-sea worm.
"We can be certain that the new species we've found also live elsewhere in the southwest Indian Ocean, as they will have migrated here from other sites, but at the moment no one really knows where, or how well-connected their populations are with those at Longqi," lead researcher Jon Copley, a scientist at Southampton, said in a news release. "Our results highlight the need to explore other hydrothermal vents in the southwest Indian Ocean and investigate the connectivity of their populations, before any impacts from mineral exploration activities and future deep-sea mining can be assessed."