Almost 50% of speeding drivers in Ireland escape court appearance as summons not served
GARDAÍ PROBE AS NEARLY HALF OF ALL CASES THROWN OUT.
ALMOST HALF OF SUMMONSES FOR SPEEDING MOTORISTS TO APPEAR IN COURT WERE NOT SERVED IN THE PAST TWO YEARS
Almost half of summonses for speeding motorists to appear in court were not served in the past two years, shock new figures has revealed.
The scale of the problem is so big that Garda management has been forced to set up a group to examine the issue.
The force says several issues, including inaccurate address information, are contributing to the issue.
Courts Service data shows that of 66,800 speeding cases listed in the courts between January 2015 and October 2016, some 30,600 or 45.8% -were struck out as summonses were never served on the defendants.
The problem was most acute in the Manorhamilton area in Co Leitrim, where 84 out of 99 summonses were not served.
In Carrickmacross, Co Monaghan, 248 out of 391 summonses and some 63% went unserved.
Other summons service 'blackspots' included Killarney, Co Kerry, where 558 of 910 summonses went unserved, and Ballaghaderreen, Co Roscommon, where 24 out of 39 summonses were not served.
At county level, the issue was most prevalent in Monaghan and Kerry, where 61%c and 59% of summons respectively were not served.
The best performing county was Wexford, but even there 30% of summonses went unserved.
The data on non-served summons was released by Tánaiste and Justice Minister Frances Fitzgerald following questions from Independent TD Tommy Broughan.
Ms Fitzgerald said her officials were seeking clarification on the "significant percentage" of cases being struck out for non-service.
She revealed a working group had been set up in An Garda Síochána to examine how the service rate can be improved and to monitor the level of service around the country.
Ms Fitzgerald said there were challenges to serving summonses in certain circumstances.
These included situations where there was "inaccurate address data, persons moving address, or living in multi occupancy dwellings or other settings which make service difficult".
"In addition, certain persons will take steps to evade service. Similar difficulties are experienced by many other police forces," she added.
The PARC Road Safety Group, which has carried out an analysis of the data, said urgent action was needed as the non-service rate was inexplicably high.
Other Courts Service data released by Ms Fitzgerald indicated many motorists who were convicted of speeding offences may have avoided penalty points by not producing their licence in court.
Although it is an offence to not to produce your licence, it has not been regularly enforced and there have been difficulties securing prosecutions.
A new Road Traffic Bill is expected to include measures to ensure drivers produce their licences in court, while the wording of summonses is to be changed so Gardaí can prosecute those who fail to produce their licence.
In counties such as Sligo and Kildare, the rate of recording of licence numbers in court between January 2015 and October 2016 was just 22%.
However, this does not mean everyone who failed to produce a licence escaped penalty points.
All convictions for penalty points offences, whether the driver licence number is produced in court or not, are provided electronically to the Transport Department.
Where a driving licence number is not provided, the Road Safety Authority undertakes a matching exercise to match the conviction with a specific driving licence.
Matching takes place on the National Vehicle Driver File, where other available information makes this possible.
DNA screening of taxi drivers in rape case is welcomed as long as a balanced approach is taken?
THE DUBLIN RAPE CRISIS CENTRE HAS WELCOMED THE GARDA INITIATIVE WHICH AIMS TO SOLVE THE 2015 CASE.
THE (DRCC) has welcomed reports of mass DNA screening being used by Gardaí in an effort to solve an alleged sexual assault case, but cautioned that a balanced approach must be taken.
Reports say that 84 taxi drivers in Dublin will be requested to provide DNA samples in an effort to track down the perpetrator of an attack which took place in December 2015.
The paper reports that the search was narrowed down to drivers of a particular make and model of car through analysis of CCTV footage.
Speaking to TheJournal.ie, chief executive of the DRCC Noeleen Blackwell said it is crucial that a serious crime like this is investigated fully, adding that it is important for the victim to see that work is being carried out to solve the case.
However she cautioned that nobody's rights can be improved by infringing on other's.
"The rights of victims must be properly pursued, and they must be pursued in a legitimate way."
We're heartened to see that the case is being investigated but it will be a matter to ensure the rights of all those suspected of the crime are preserved.
Under the legislation being used to authorise the mass DNA screenings, people cannot be compelled to provide a sample.
"We recognise the right of someone not to hand over any evidence," Blackwell said. "So it's a question of keeping that balance, and that's very much a question for how the guards go about it.
They have to take great care that they're not requiring innocent people who are out earning their living to account for their movements.
The aim of the database, which became active in 2015, is to assist gardaí in tackling crime by being able to link cases and identify suspects. It also means that the Irish justice system will be able to search and be searchable in other national DNA databases.
Not only will it benefit criminal investigations, the database will also be able to identify missing and unknown persons, including unidentified human remains.
If a person is on the sex register, their DNA can be kept indefinitely.
Only eighty nurses register to attend HSE three-day recruitment fair in Dublin
EVENT TARGETING NURSES HOME FOR CHRISTMAS OR GOING BACK TO WORK AFTER SOME TIME AWAY
ROSARII MANNION THE HSE NATIONAL DIRECTOR OF HUMAN RESOURCES: "A LOT OF THE NEGATIVE MESSAGES THAT HAVE GONE OUT HAVE INHIBITED RELOCATION BUT WE WANT TO CHANGE THAT NARRATIVE."
Only Eighty nurses have so far registered to attend a three-day recruitment fair taking place over the holiday period at the Health Service Executive headquarters in Dublin.
Yesterday, the first day of the event, 36 nurses had turned up at Dr Steevens's Hospital to express an interest in working in the public health service. Some 28 were interviewed and 19 were successful and will be offered posts. However the HSE said this was only the first of a series of career events it planned to hold over the coming months.
Minister for Health Simon Harris, who plans to visit the jobs fair today, said: "One of the things I want to do is significantly overhaul the recruitment process for nurses.
RECRUITMENT
"It needs to be more streamlined; it needs to be more accessible in terms of information for nurses.
"It is going to be a priority for 2017. Recruitment is a challenge in terms of nurses. There is global competition for nurses and therefore Ireland needs to make sure that nurses applying for jobs in a hospital here that the process is as straightforward as possible." Mr Harris said one of the issues for nurses had been a lack of information and assistance when applying for positions in the health services.
One of the possibilities being examined is establishing a new information helpline to assist them with the process. The Minister refused to be drawn on new or enhanced payments to nurses, claiming this was a matter for Minister for Public Expenditure and Reform Paschal Donohoe. Many of those attending yesterday were interviewed on the spot while others with a more tentative interest were provided with information on a range of jobs.
The event is predominantly targeting Irish nurses who are home from overseas for Christmas and who are thinking of coming back here to work. Others who turned up were thinking of returning to the workforce after time away from work or were considering switching from the nursing home sector to hospital-based work.
'LOST GRADUATES'
"We are very keen on changing the narrative around the nursing profession in Ireland," said Rosarii Mannion, HSE national director of human resources. "For years, we lost graduates because we were not in a position to offer permanent positions, but that has changed now."
As well as permanent jobs, she highlighted the "very good" pension scheme, an abundance of education and training opportunities and flexible working hours as the positive factors of working for the HSE.
Nurses returning from abroad may also qualify for a €1,500 relocation allowance.
Susan Leahy, a midwife from Limerick who left for Britain after qualifying in 2009, said she was attending because "it is time to come home". "At the time, there weren't a lot of positions available, so I went for the experience."
Exiles and entrepreneur's the target of Sligo's new digital hub block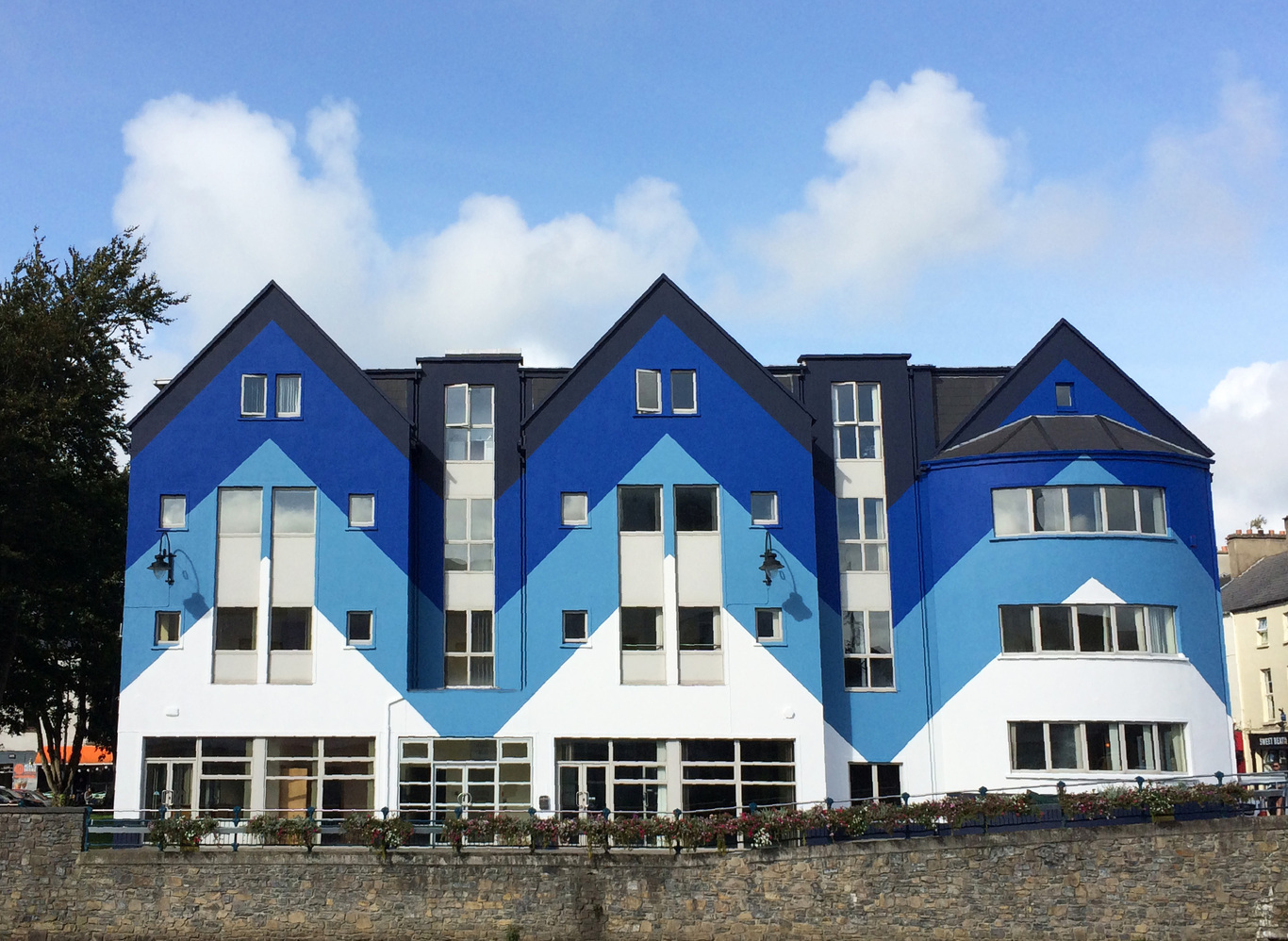 EXILES AND ENTREPRENEUR'S ARE AMONG THE TARGET AUDIENCE FOR A SPECIAL OPEN DAY TO TAKE A SNEAK PEEK INSIDE A DIGITAL WORKING HUB.
The Building Block in Sligo will show would-be tenants including startups around a purpose-designed facility – one of the largest in Ireland – which opens for business in January.
LOCATION
Uniquely located right in the centre of Sligo town, overlooking Sligo's main waterway and at the centre of a regeneration quarter. The building features spectacular views on every side.
5 Minute walk from Sligo's main train and bus station, with direct Dublin links, 3-4 times daily. 10 minute drive from spectacular beaches popular for walks and surfing.
The Building Block is a co-working space providing desks, and private office suites for startups and small businesses, and will open its doors officially in early 2017.
The 20.000 sq. ft. building has lain largely empty for ten years but is now being totally renovated and repurposed with stylish interiors inspired by Sligo's coastal heritage – including purpose-built 'beach hut' meeting rooms.
It will feature lightning-fast, fibre optic broadband, providing 1 Gigabit (1G) connectivity with state-of-the art working spaces including ground-floor hot-desks, dedicated desks, private office suites as well as large social spaces, canteens and presentation areas.
On the ground floor, there will be a focus on attracting potential tenants from across the creative Industries: design, media, marketing, digital, web and startups. The building will host events and guest speakers, pitching nights and networking opportunities.
With stunning river views and offices flooded with natural light, the idea behind The Building Block is that businesses and start-ups move in to the first floor and move up through the floors to both serviced and non-serviced private office suites as they grow and develop. International companies will also be provided for through IDA Ireland.
The Building Block is taking part in the #homeforwork initiative organised by HR amd recruitment specialist Collins McNicholas which is hosting its event at the Glasshouse Hotel in Sligo from 10am until 2pm.
In tandem with this event, The Building Block, situated on the riverbank at Stephen Street car park, will open its doors to the public for the first time.
The open day provides an opportunity for those coming home to Sligo and the North West over the Christmas holidays to see and hear about this new space, the first of its kind in the region.
Sligo-based business woman Denise Rushe worked with local architect John Monohan of NOJI Architects to push the idea of The Building Block with building owner Martin Doran, a Sligo businessman who is based in Dublin.
Denise Rushe said: "We will be providing short guided tours of the ground-floor co-working space and answering any questions you might have."
The Building Block is currently undergoing the final stages of a fit-out on the ground floor which will house the co-working space. Desks will be available from mid to late January.
What is Cognitive behavioural therapy and which conditions is CBT used to treat?
IF YOUR DOCTOR HAS MENTIONED CBT, THIS IS WHAT YOU NEED TO KNOW ABOUT IT?
Living with a mental health condition does not necessarily mean someone has to take daily medication and many people live happy and healthy lives with the help of Cognitive Behavioural Therapy (CBT) as well.
The aim of cognitive behavioural therapy is to separate a person's thoughts, feelings, physical sensations and actions
If you're unsure about what CBT is, and how it could help you or a loved one, this is what you need to know.
WHAT IS COGNITIVE BEHAVIOURAL THERAPY?
CBT is a type of talking therapy, which aims to help people manage their problems by changing the way they think.
The therapy is based on the concept that thoughts, feelings, physical sensations and actions are all interconnected – and negative thoughts can trap you in a vicious cycle.
During CBT sessions, the therapist will encourage their patient to break their seemingly overwhelming problems into smaller parts.
It deals wholly with current problems, rather than focusing on issues from the patient's past.
The CBT therapist will look for practical ways for the patient to improve their state of mind on a daily basis.
WHAT CONDITIONS IS COGNITIVE BEHAVIOURAL THERAPY USED TO TREAT?
CBT can be used to treat a whole range of mental health conditions either instead of, or alongside, medical treatment.
While Loose Women panellist Denise Welch credits CBT with helping her lose weight and quit smoking.
CBT CAN BE EFFECTIVE IN TREATING:
Depression
Anxiety
Obsessive compulsive disorder (OCD)
Panic disorders
Post-traumatic stress disorder (PTSD)
Phobias
Eating disorders (such as anorexia and bulimia)
Insomnia
Alcohol misuse
In addition to these mental health problems, CBT can also help with long-term conditions such as irritable bowel syndrome (IBS) and chronic fatigue symptoms (CFS).
Although it won't cure the physical symptoms of these conditions, CBT can help people cope better.
What happens during Cognitive behavioural therapy sessions?
CBT is normally broken down in between five and 20 sessions, each lasting between half an hour and one hour.
During each session, you will work with your therapist to break down your problems into separate parts – and distinguish between your thoughts, physical feelings and actions.
The therapist will then help working out if these thoughts, feelings and actions are unrealistic or unhelpful, and what effect they have.
After working out what could be changed, the therapist will ask you to practice putting these processes into action.
The aim is to learn to manage your problems and stop them having a negative impact on your daily life.
The steps learnt in CBT can then be used throughout the patient's daily life, even after they finish their sessions.
The Cheetah is much more vulnerable than previously thought
URGENT ACTION NEEDED TO SAVE THE FASTEST LAND ANIMAL IN THE WORLD FROM EXTINCTION
SCIENTISTS NOW ESTIMATE THAT JUST 7,100 OF THE FLEET-FOOTED CATS REMAIN IN THE WILD, OCCUPYING JUST 9% OF THE TERRITORY THEY ONCE LIVED IN.
Urgent action is needed to stop the cheetah which is the world's fastest land animal sprinting to extinction, experts have warned.
Scientists estimate that just 7,100 of the fleet-footed cats remain in the wild, occupying just 9% of the territory they once lived in.
Asiatic populations have been hit the hardest with fewer than 50 individuals surviving in Iran, according to a new investigation led by the Zoological Society of London (ZSL) and Wildlife Conservation Society (WCS).
In Zimbabwe, cheetah numbers have plummeted by 85% in little more than a decade.
The cheetah's dramatic decline has now prompted calls for the animal's status to be upgraded from "vulnerable" to "endangered" on the International Union for the Conservation of Nature (IUCN) Red List of threatened species.
Dr Sarah Durant, from ZSL and WCS, project leader for the Rangewide Conservation Programme for Cheetah and African Wild Dog, said: "This study represents the most comprehensive analysis of cheetah status to date.
"Given the secretive nature of this elusive cat, it has been difficult to gather hard information on the species, leading to its plight being overlooked. Our findings show that the large space requirements for cheetah, coupled with the complex range of threats faced by the species in the wild, mean that it is likely to be much more vulnerable to extinction than was previously thought."
The cheetah is one of the world's most wide-ranging carnivores and needs a lot of space. Partly because of this, 77% of its remaining habitat falls outside protected areas, leaving the animal especially vulnerable to human impacts.
Even within well-managed parks and reserves the cats have suffered as a result of humans hunting their prey, habitat loss, illegal trafficking of cheetah parts, and the exotic pet trade, say the researchers writing in the journal Proceedings of the National Academy of Sciences.
In Zimbabwe these pressures have seen the cheetah population plunge from 1,200 to a maximum of only 170 animals in 16 years, a decline of 85%.
The experts want to see a completely new approach to cheetah conservation focusing on the landscape that transcends national borders and incorporates co-ordinated regional strategies.
It would involve motivating both governments and local communities to protect the cheetah and promoting the sustainable co-existence of humans and wildlife.
Dr Kim Young-Overton, from the wild cat conservation organisation Panthera, said: "We've just hit the reset button in our understanding of how close cheetahs are to extinction.
"The take-away from this pinnacle study is that securing protected areas alone is not enough. We must think bigger, conserving across the mosaic of protected and unprotected landscapes that these far-reaching cats inhabit, If we are to avert the otherwise certain loss of the cheetah forever."