IDA set to negotiate with UK companies to relocate to Ireland after Brexit vote
THE AGENCY IS TO BEGIN NEGOTIATIONS WITH COMPANIES LOCATED IN UK THAT MAY WANT TO RELOCATE TO IRELAND.
MARTIN SHANAHAN (picture left), THE CHIEF EXECUTIVE OF IDA IRELAND, SAYS THE STATE AGENCY WILL SOON BEGIN NEGOTIATIONS WITH BANKS AND OTHER COMPANIES LOCATED IN THE UK THAT MAY WANT TO RELOCATE TO IRELAND FOLLOWING THE BREXIT VOTE.
Martin Shanahan, the chief executive of IDA Ireland, says the State agency will soon begin negotiations with banks and other companies located in the UK that may want to relocate to Ireland following the Brexit vote.
Mr Shanahan stressed his first preference was for Britain to remain within the European Union (EU), but he said the IDA has "done its homework" on how to maximise foreign investment for Ireland now that the UK has voted to leave.
"We have been in discussion with potential clients [who may choose to relocate to Ireland from the UK] for months. They approached us," said Mr Shanahan. "We have a good view on the potential for Ireland.
He said discussions with potential foreign investors could begin as soon as "next week, or the week after".
IDA's existing 1,200 client companies are "still digesting the news", he said. Mr Shanahan yesterday wrote to the 1,200 to say Ireland remains committed to the EU and is effectively still open for business.
He said Ireland's "stability" would be an attractive feature when attracting new investment in the midst of the uncertainty created for the UK by the vote. Mr Shanahan also agreed that financial services and technology were two sectors where Ireland would be particularly well placed to pick up fresh foreign investment that might otherwise locate in the UK.
"But we intend to push for investment right across the portfolio, including life sciences and engineering," he said. "Our mandate prior to Brexit was to maximise investment for Ireland, and nothing has changed in that regard."
TERMS OF EXIT?
Fergal O'Brien, chief economist at the employers' lobby Ibec, said the UK is now likely to "become more aggressive" in securing foreign investment to protect its economy, which could increase competition faced by the IDA.
He said a lot depends on the terms of the exit deal given to the UK, including its level of access to the EU's internal market: "It is in Ireland's interests to get as much stability as possible for the UK."
Mr O'Brien suggested that while other EU states might want to impose tough measures on the UK to discourage other countries from exiting, Ireland "needs to establish at EU level that we have skin in the game" and push for leniency.
Enterprise Ireland, meanwhile, warned against the effects of exchange rate volatility for Irish exporters into the UK. It said it would also support Irish exporters to devise medium-term diversification plans.
"In addition to our team in the UK, we have put in place a dedicated email address, phone-line and team for Enterprise Ireland clients to respond to their immediate concerns and issues," said the agency.
Ryanair and Aer Lingus could be hit by fall in passengers
INTERNATIONAL AIR TRANSPORT ASSOCIATION SAYS WEAKER STERLING MAY CUT NUMBER OF UK TRAVELLERS
IAG SAID IT NO LONGER EXPECTS TO GENERATE AN ABSOLUTE OPERATING PROFIT INCREASE SIMILAR TO 2015.
Ryanair and Aer Lingus parent, International Airlines' Group (IAG), could be hit by a fall in UK passenger numbers following the Brexit vote, according to a leading industry body.
The International Air Transport Association (IATA) predicts that a weakened sterling and shrinking economy could cut UK airline passenger numbers, which hit 250 million last year, by 3 to 5% by 2020.
A report the association published yesterday shows that Ryanair and IAG, owner of Aer Lingus, are amongst the airlines that are most exposed to a fall in air travel.
The UK is one of Ryanair's biggest markets, accounting for more than 30 million of the 100-plus million passengers that it flies every year.
This gave it a large share of the 117 million people that flew between the UK and the rest of the EU last year. It also employs 4,000 people there.
IAG's other airlines include British Airways, which carried more than 43 million people last year. The group warned in a statement following the vote that it does not expect this year's growth in operating profits to match that of 2015.
Ryanair's chief marketing officer, Kenny Jacobs, said that the Irish company would campaign to have the UK remains in the EU's Open Skies regime, which allows airlines to fly freely between member states.
However, he indicated that Ryanair is more likely to spend money on countries within the EU, such as the Republic, Germany, Spain and Italy. "It's going to mean that when we are looking at investing, we will look outside the UK," he said.
The vote sent travel stocks tumbling. IAG fell 22.54% to 409 pence sterling in London. Ryanair shares were down 11.77% at €12.07 in Dublin.
Shaun Quinn, chief executive of State body, Fáilte Ireland, responsible for promoting tourism to the Republic, said it was too early to speculate on the likely impact of the vote on the industry.
"Fáilte Ireland will be monitoring any short term impacts of a devalued sterling on tourist numbers to Ireland and working with businesses in the sector to develop strategies to address any arising competitiveness challenges," he said.
The Irish Hotels Federation warned that there was a risk a risk that economic uncertainty and a weaker sterling would hit visitor numbers from the UK.
Republic attracts three million tourists from Britain every year. The hospitality industry fears that this number could decline as the Brexit fallout continues.
Sligo seeking funding as European Volunteer Capital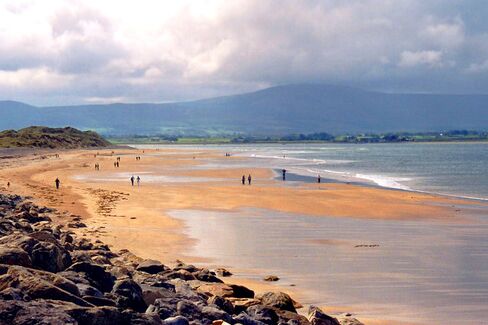 CONCERN HAS BEEN EXPRESSED THAT NO FUNDING HAS YET BEEN ARRANGED FOR SLIGO'S DESIGNATION AS EUROPEAN VOLUNTEERING CAPITAL 2017.
The manager of Sligo Volunteer Centre Ciara Herity told councillors last week that while the supports from the Municipality were in place, no concrete funding was secured.
"We are the first non-country capital winner. It's very exciting, for Sligo and for Ireland. The uniqueness of Sligo winning is that we are a small rural county on the periphery of Europe. It's a privilege to have it," she said.
Cathaoirleach of the County Council Cllr Rosaleen O'Grady said she was "concerned that they've no funding" but added that they had "the right woman in Marian Harkin in Europe" to help them source funding.
The MEP is Patron of Sligo Volunteer Centre and attended the presentation in person last week.
Sligo beat seven other cities in the running for the 2017 designation and previous winners include London, Lisbon and Barcelona.
Sligo Volunteer Centre celebrates its 10 year anniversary in 2017 and the designation will give due recognition to that.
M/s Herity said the designation would bring more European visitors here along with an economic boost to the town and county.
It's hoped Sligo will host some national events: Volunteer Ireland, Special Olympics, Foroige and the Irish Girl Guides have been approached about hosting events here next year.
Cllr Sean MacManus said it was "a fantastic achievement for a small county on the periphery of Europe". He said it was going to be difficult to match London and Lisbon "especially in view of the fact that we've no funding."
"Even given Sligo County Council's straitened financial situation to include some forming of funding to back them up," he said.
Cllr Sinead Maguire also congratulated Sligo Volunteer Centre and said "It does reflect the spirit of volunteering that we have here in Sligo. We're worthy winners."
Council Chief Executive Ciarán Hayes is now tasked with designing a programme of events, actively pursuing sponsorship and raising awareness.
Marked reduction in PSA testing

A US TASK FORCE RECOMMENDATION AGAINST PSA-BASED SCREENING HAD A MAJOR EFFECT, GARY CULLITON HEARD AT THE JOHN FITZPATRICK IRISH PROSTATE CANCER CONFERENCE. SINCE THIS POLICY DECISION WAS MADE, THERE HAS BEEN A CONSIDERABLE IMPACT ON RATES OF DETECTION
Policy decisions are rapidly influencing primary care practice in the US. There has been a decrease in prostate-specific antigen (PSA) screening, and the urology response has been an increase in the use of active surveillance in men with low-risk disease. Recent years have also seen the advent of surgical cohorts with more intermediate and high-risk disease.
A recommendation against PSA screening may be leading to later stage disease at diagnosis, a meeting in Dublin has heard.
There has been a shift toward more advanced disease at diagnosis, and decreased use of PSA-based screening may worsen this trend.
The rapid decrease in PSA use was concerning, said Prof Michael Blute, Chief of Urology at Boston's Massachusetts General Hospital and Professor of Surgery at Harvard. This would continue until there was a change at policy level, he said, in a talk on policy decisions and the changing face of prostate cancer at the John Fitzpatrick Irish Prostate Cancer Conference in Dublin recently. His talk dealt in particular with diagnosis and management in the US.
More surgical patients are seen with advanced or adverse pathology. "My hope is that smarter prostate cancer screening methods will be introduced," said Prof Blute. One of his concerns centres on "reaching primary care practices."
In 2012, the US Preventive Services Task Force (USPSTF) recommended against PSA-based screening for prostate cancer. There was moderate or high certainty that the service had no net benefit or that the harms outweighed the benefits, said the Task Force, which discouraged use of the service.
Since this policy decision was made, there has been a major impact on rates of detection. Urologists order between 7 and 10 per cent of the PSA tests in the country. The vast majority of PSA tests are ordered by primary care practices.
Dramatic reduction
A dramatic reduction was seen in the utilisation of PSA testing in primary care practices (Ahmedin Jemal, 2015). There were then conflicting results from the PLCO and ERSPC trials and the case against screening appeared to strengthen.
Following the 2012 USPSTF recommendation, there has been a 20 per cent reduction in the use of PSA testing in the United States and rates would continue to fall, said Prof Blute. "The argument about PSA screening became an 'all or none' debate. The 'none' side won out. This is having a significant impact for men diagnosed with prostate cancer at our practice."
Overall incidence among the cohort of men aged 50 and older in the US dropped off in 2012. However, the presentation stage — for localised disease or metastatic disease — has not changed; it lags behind. For the first time in two decades, the incidence of metastatic disease among men aged 75 years or older is starting to creep up.
"My fear is that primary care practices are not listening to American Urological Association (AUA) guidelines. They are not listening to National Comprehensive Cancer Network (NCCN) guidelines. They are listening to the USPSTF," Prof Blute said.
Since the 2012 USPSTF recommendation, there has been a 28 per cent reduction in the diagnosis of prostate cancer in the US (Barocas DA, J Urol, 2015). Equal reductions have been seen in the diagnosis of men with low-, intermediate- and high-risk cancers. "This is an extremely rapid change and it is a real concern for men with intermediate- or high-risk disease who will experience delay in diagnosis," said Prof Blute. Delayed diagnoses would be a feature and an increase in the incidence of men with metastatic disease at diagnosis was sure to follow, he said.
The recommendation has been associated with decreased PSA screening in all age groups, decreased rates of prostate biopsies and decreased incidence of prostate cancer. There has been no change in the distribution of low-, intermediate- and high-grade disease. There have been no changes thus far among men aged between 50 and 74. Increases in men presenting with metastatic disease 75 years and older are now seen (Ahmedin Jemal, 2015). Men in the 50-to-70 years bracket would have a similar response if there was continued reduction in the utilisation of PSA, Prof Blute predicted. An increase in absolute and relative amounts of late stage prostate cancer would be seen, he predicted.
Increased numbers.
A hugely increased number of men with low-risk disease were identified following the introduction of PSA testing.
Seventy-to-80 per cent of the diagnoses were low-risk. Now, almost 40 per cent of men with newly diagnosed prostate cancer are placed — appropriately — in active surveillance protocols (National Cancer Database, 2004 to 2013).
Between 2004 and 2012, intermediate- and high-risk men were increasingly seen among surgical cohorts. Low-risk men may not benefit from aggressive therapy, but because of progression or repeat sampling biopsies that reveal higher grade disease in 20 per cent of cases, men may be upstaged to intermediate risk disease.
Data covering private practice urology in the US showed a drastic reduction in use of ADT monotherapy for patients with the highest risk on Cancer of the Prostate Risk Assessment (CAPRA) score after 2004 (Cooperberg, JAMA, 2009). Use of radical prostatectomy more than doubled. There was a continued reduction in primary androgen deprivation therapy as monotherapy among men aged 75 and older. There was also an increase in the utilisation of more aggressive therapy for patients who had higher-risk disease.
Pathologically, there has been a reverse stage shift: operations have been performed on more men with higher-risk disease. From 2000 to 2010, the number of men who underwent radical prostatectomies for low-risk disease, dropped drastically — from 50 to 30 per cent (Silberstein, Cancer, 2011). By contrast, the number of men with high- and intermediate-risk disease increased. More and more men with adverse pathology results would be seen following radical prostatectomy, said Prof Blute.
The number of men operated on with organ-confined disease was falling, but more men with extra-prostatic disease were seen.
However, there was a reduction in operations on men with primary pathologic Gleason Score Six disease.
Low-risk tumours are more frequently treated with active surveillance in the US, while high-risk tumours are more frequently treated with surgery. The recommendation against PSA screening is leading to a reverse Stage migration.
Prof Blute spoke about the role of MRI in surgical management of prostate cancer. There would be an increased tendency to operate on more aggressive tumours. Some cancer cells may be left behind (increased positive surgical margin rates) and there would probably be less favourable cancer control outcomes locally — particularly where surgery was used as single-modality treatment. Use of adjuvant therapies and pelvic lymph node dissection would also increasingly be considered.
Men in the high-risk cate-gory are a heterogenous group. Those with high-risk disease who have a single adverse variable do better than men with multiple adverse variables. In terms of management, surgery is included in guidelines by the National Comprehensive Cancer Network (NCCN) for cases of resectable disease, but unlike breast or colorectal cancer, algorithm surgery has not been tested in a multimodal fashion with radiation and hormone therapy.
Where surgery is used for initial management in high-risk disease, overall 10-year cancer-specific survival is 80-to-90 per cent (Stewart, 2015). Many men do well, where their high-risk disease is managed using surgery. Fifteen-year outcomes were published on a series of men with clinical T3 disease who had operations. The complication rate among these men — who underwent wide local excision of their cancers — was studied. They had good outcomes — equivalent to T2 disease. In terms of urinary control, 80 per cent of these men were completely dry (Ward, 2005, BJUI).
MRI is used to stage these patients prior to surgery. The same techniques used in low-risk men cannot be used to operate on men with high-risk disease. Extended pelvic lymph node dissections are recommended as the node positive rate for high risk disease will be 10 to 15 per cent. There would be risk associated with dividing the lateral pelvic fascia and releasing the neurovascular bundle and not achieving negative surgical margins. Therefore, an extrafascial approach is favoured for men with high-risk disease.
An objective was to elevate the rectoprostatic fascia so there was a wide surgical margin in the patient, said Prof Blute.
Using wide local excision surgery as an initial treatment among 1,800 men with high risk disease, 57 per cent of men ultimately had pathologically organ-confined disease and did well (Boorijian, J Urol, 2008). Ten-year local recurrence-free survival was 90 per cent. Local recurrence-free survival in these men (who often had at least T3 disease) was equivalent to that in men with T2 disease.
Increasingly, a biomarker has been used. The Decipher test is a genomic classifier. Some 545 Mayo Clinic patients with high-risk disease were selected following radical prostatectomies (Erho, Crisan, PLOS One, 2013). These men had biochemical recurrence and a test was sought that would predict metastases.
Some 192 cases developed metastases. Transcriptome-wide expression profiling was carried out to identify signalling pathways associated with metastases.
If the Deci¬p¬her score indicated a low risk, only 2.4 per cent of men ultimately demonstr-ated metastases. The genomic classifier was judged to yield independent prognostic information in a multivariable analysis. The Decipher test was found to be the only significant variable for detecting rapid metastases and it performed well, compared to the CAPRA-S and Stephenson nomograms (Klein, Euro Urology 2015).
The Decipher test provided additional stratification in terms of risk (Ashley Ross, Johns Hopkins). Molecular stratification has been needed to classify men with high-risk disease better. There is a concern about additional toxicities in these men (who have undetectable PSA, are responding well to their surgery and have good quality of life).
Multivariable analysis demonstrated that genomic high-risk men, who received ART, had higher metastases-free survival, compared to salvage radiation treatment. An 80 per cent reduction in risk of metastases was demonstrated, among the Decipher high-risk group getting ART — rather than salvage — therapy.
This would hopefully inform the debate about the timing of radiation treatment in the post-op setting, said Prof Blute. The genomic classifier would be very helpful in men who had high risk disease. Data showed that significant numbers of men with adverse pathologies did not develop clinical metastases. They do well and do not need adjuvant therapies.
Introducing a genomic classifier for this group of men would be very valuable in stratifying who needed the therapies and when. In patients with adverse pathology and a low-risk genomic classifier result, a careful eye should be kept on the PSA results, data indicate. More prospective studies were required, said Prof Blute.
In the current era, aggressive treatment of localised prostate cancer was increasingly being reserved for those men who needed it the most, and active surveillance for men with low-risk disease.
In the future, surgical cohorts would be increasingly intermediate- and high-risk patients, and focus must be on managing adverse pathology after surgery to achieve long-term local control of prostate cancer, added Prof Blute.
Crops grown on Mars soil are safe to eat
ECOLOGIST WIEGER WAMELINK INSPECTING THE PLANTS GROWN ON SOIL SIMILAR TO THAT ON MARS AT THE WAGENINGEN UNIVERSITY.
Results from trials using soil like that on Mars hold promise for future settlements on planet
Dutch scientists said crops of four vegetables and cereals grown on soil similar to that on Mars have been found safe to eat, amid plans for the first manned mission to the planet.
Abundant harvests of radishes, peas, rye and tomatoes all grown on the soil were found to contain "no dangerous levels" of heavy metals, said the team from Wageningen University on Thursday.
"These remarkable results are very promising," said senior ecologist Wieger Wamelink. "We can actually eat the radishes, peas, rye and tomatoes, and I am very curious what they will taste like."
Future Mars settlers will have to take food supplies with them and then plant crops in order to survive.
So using soil developed by Nasa to resemble that of the Red Planet, the university in the Netherlands has been experimenting since 2013 and has managed to raise 10 crops.
There is uncertainty still about their absorbing the high levels of heavy metals such as cadmium, copper and lead present in Mars soil. Further tests are needed on the other six crops, including potatoes, in research being backed by a crowd-funding campaign.
Nasa plans a manned trip to Mars within the next 10 to 15 years or so, and similar projects are being pursued by US billionaire Elon Musk and Dutch company Mars One, tentatively aiming to set up human colonies on the Red Planet.
The Mars One project has backed the Wageningen work and is deciding on the final 40 out of 100 candidates hoping to be its astronauts.
But unlike any Nasa mission, Mars One is a one-way trip: Whoever joins this journey to the foreign world is never, ever coming back to Earth, Fox 5 News reported.
Mars One CEO Bas Landsdorp estimates the project will cost US$7 billion (S$9.5 billion). He plans to pay for it in part by turning the mission into a reality show.
But space expert Neil deGrasse Tyson is sceptical.
"I try not to get in anybody's way who is dreaming big," he told Business Insider after Mars One announced the project in February last year. "But I'm sceptical it can be accomplished on the timescale" given.