Mortgage rules likely to curtail buying of new homes in Ireland,
ECONOMIC THINK TANK SAYS HOUSING SUPPLY WILL BE REDUCED BY 5% OVER FOUR YEARS
OVER THE NEXT THREE OR FOUR YEARS HOUSE PRICES ARE LIKELY TO BE ON AVERAGE 3.5% LOWER THAN WHERE THEY WOULD HAVE BEEN WITHOUT THE CENTRAL BANK MORTGAGE RULES, AN ESRI REPORT HAS FOUND.
The Central Bank's mortgage lending rules are likely to curtail the supply of new homes by up to 5% over the next four years, the Economic and Social Research Institute (ESRI) has warned.
In a research paper published with its latest quarterly report, the institute found the impact of the restrictions had yet to fully play out because of the lag effect in construction, albeit there has been a sizeable dip in new mortgage lending.
However, it said this would change over the next three to four years with house prices likely to be on average 3.5% lower than where they would have been without the rules.
This decline will lead to reduced profitability in construction, which will lower the number of housing units completed in each quarter by about 5 per cent, and reduce the State's overall housing stock by about 0.5%.
The finding comes as the Central Bank conducts its first review of the rules, which were introduced in February 2015 to prevent the housing market from overheating again.
They require first-time buyers to have a 10% deposit for the first €220,000 of a house price and 20% for the balance while all other buyers must have a 20% deposit in place.
In addition, the Central Bank requires that income limits of 3.5 times are applied by the banks before approving mortgages.
A recent consultation process, which will inform the bank's review, yielded 50 submissions, several of which called for the threshold below which first-time buyers have to pay only a 10% deposit to be raised from the current level of €220,000.
Kieran McQuinn of the ESRI said the measures had had a contractionary impact on the housing market in terms of reducing prices, supply and mortgage lending below levels the would have otherwise pertained.
He said they had made it more difficult for potential buyers to raise downpayments and pushed more people into the rental market. This explained why rents were rising at an even greater rate than property prices.
Boom years
A recent report by property website Daft found that rents were now above what they were during the boom years, with annual inflation in Dublin, where the housing shortage is most acute, running at 11%.
Dr McQuinn said the ESRI fully supported the need for macroprudential measures but the rules needed to incorporate room for a "counter-cyclical dimension"to reflect the current supply shortages.
The institute does not expect housing completions to increase to 25,000, the level needed to meet demand, until after 2018. Property Industry Ireland, the Ibec group that represents the sector, predicts that completions this year will only amount to about 14,000.
In its latest quarterly commentary, the ESRI downgraded its growth forecasts amid concern over global demand linked to weakness in the Chinese economy and because of Brexit-related issues.
It predicted GDP, the standard measure of economic growth, would expand by 4.3% this year and by 3.8% in 2017.
On the 26% GDP growth recorded for last year, the think tank acknowledged nobody could take this rate seriously.
Michael Noonan agrees to now appear before the Public Accounts Committee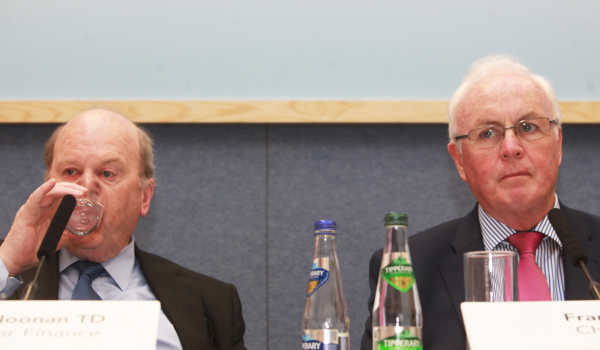 THE FINANCE MINISTER MICHAEL NOONAN HAS TONIGHT BOWED TO PRESSURE AND WILL NOW APPEAR BEFORE THE PUBLIC ACCOUNTS COMMITTEE (PAC) OVER NAMA'S CONTROVERSIAL SALE OF ITS NORTHERN IRELAND LOAN BOOK,
Mr Noonan was told by Independent Ministers including Finian McGrath and Shane Ross at Cabinet today that it would be better if he attended the committee and try and "kill off" the controversy.
While ministers agreed that it was Mr Noonan's decision to make, he was left in no doubt as to the feelings of his colleagues, sources have said.
"I have today decided to accept the invitation of the Committee of Public Accounts to assist the Committee in its examination of the C&AG's Special Report on the National Asset Management Agency's sale of Project Eagle," Mr Noonan said in a statement.
"I intend to reply by letter to the Committee of Public Accounts to confirm this and to request assurances from the Committee that the proceedings of the Committee will be conducted in line with its terms of reference," he added.
Members of the PAC welcomed Mr Noonan's announcement.
Sinn Féin Deputy Leader Mary Lou McDonald TD said his decision to face questions is in the public interest.
"After a weekend of stalling, Minister Noonan has reversed his decision and has agreed to come before the Public Accounts Committee to address concerns regarding the sale of NAMA's northern loan-book. I welcome his decision as it is, without question, in the public interest that he explain why he failed to suspend to sale when he became aware of the operation of fixer fees," she said.
"He must explain why he, as Minister for Finance, failed to protect the interests of the citizens of this state. Minister Noonan now needs to open the books, assist the PAC inquiry, and not engage in further prevarication," she added.
Last week, Nama rejected a report which says that it could have sold loans based in Northern Ireland for more than £1.32 billion.
The long-awaited Comptroller and Auditor General's (C&AG) report into the sale of Project Eagle was published today, saying that the agency could have made more than that.
The report found that the State lost around £190 million (€220 million).
The C&AG report found that Nama had over-discounted the loans, giving 10-15% discounts where 5.5% would be more applicable. It added that NAMA did not keep an "adequate record of key decisions and events even though the sales process deviated from standard".
Micheál Martin claims the elimination of water charges would not erode our tax base
FIANNA FÁIL LEADER MICHEÁL MARTIN TD ADDRESSES THE MEDIA PRIOR TO THE ANNUAL PARLIAMENTARY PARTY THINK-IN AT THE SEVEN OAKS HOTEL, CARLOW.
Fianna Fáil leader Micheál Martin has rejected a European Commission report that said the elimination of water charges would erode the tax base.
The Commission's remarks came in its latest post-bailout report in the Irish economy.
Mr Martin said scrapping water charges is "not an erosion of the tax base because it's made a very negligible contribution to the widening of the tax base in the last three years."
He was speaking after his party's Co Carlow think-in where he also responded to a study by the Irish Tax Institute that outlined how workers are paying the top rate of income tax before their salaries reached the average industrial wage.
The Fianna Fáil TD was asked if the party should rethink its policy of pushing for spending measures over tax cuts as a result of the study.
Mr Martin said he was committed to its position that there should be a 2:1 break-down of spending to tax cuts in the upcoming Budget.
"There's absolutely no question but that we do have to invest in health, in education and housing and give people some decent quality of life in terms of access to those services," he added.
He said there "is a case" for tax cuts but that a balance has to be struck.
"We need to be mindful of the risks to the Irish economy not least the Brexit risks and proceed in a cautious manner," he added.
Meanwhile he said he doesn't think it will be achievable or the right policy to abolish the USC in five years as Finance Minister Michael Noonan today told an Oireachtas committee he'd like to do.
Mr Martin responded to this saying: "I don't believe it's achievable".
"We don't believe its the right policy or the right approach," he said adding that there needs to be a balance between investing in services and infrastructure and giving people a break in their taxes.
Irish teens are smoking and drinking less according to a new European survey says
NEW SURVEY RAISES CONCERNS OVER YOUNG PEOPLE'S DRUG USE AND INTERNET BEHAVIOUR
V
SMOKING AND DRINKING HAVE DECLINED AMONG IRISH SECONDARY SCHOOL STUDENTS, ACCORDING TO A NEW EUROPEAN SURVEY.
Smoking and drinking have declined among Irish secondary school students, but new concerns are emerging in relation to drugs and addictive behaviours associated with the internet, a new European survey has claimed.
Fewer Irish teenagers are drinking and smoking, according to the European School Survey Project on Alcohol and Other Drugs (ESPAD)'s 2015 report, which looked at the behaviour of 15- to 16-year-olds.
However, Irish respondents reported slightly higher than average rates in use of illicit drugs other than cannabis during their lifetime, lifetime use of inhalants and lifetime use of new psychoactive substances.
The ESPAD report also said more than one in 10 Irish teenagers gambled for money frequently.
Use of alcohol within the last 30 days and the rate of heavy episodic drinking were less common among Irish respondents, compared with the average in the survey.
Thirty-five per cent of Irish teenagers reported drinking alcohol during the past 30 days, compared with a European average of 48 per cent, while 28 per cent of Irish teenagers reported heavy episodic drinking during the past 30 days, compared with a 35 per cent average.
The same was true for cigarette use during the last 30 days, which stood at 13 per cent among Irish respondents, compared with the European average of 21 per cent.
The ESPAD's findings are based on a survey undertaken in 2015 in 35 European countries, including 24 EU member states.
A total of 96,043 students, including 1,400 from Ireland, participated in the survey, responding in school to an anonymous questionnaire.
The ESPAD's report highlighted overall "positive developments" in the area of cigarette-smoking.
"Today, the majority of adolescents have never smoked (54 per cent) and less than one-quarter (21 per cent) of the sample can be considered current smokers," it said.
The survey identified "high rates of alcohol use" among European teenagers, but said trends over the past two decades point to positive developments.
It recorded a decrease in lifetime and last-30-day use of alcohol among teenagers between 1995 and 2015, from 89 per cent to 81 per cent and from 56 per cent to 47 per cent respectively
However, it said changes in heavy episodic drinking were less pronounced and only observed among boys, going from 36 per cent to 35 per cent in the past 20 years.
On internet use, survey respondents said they had used the internet an average of 5.8 days within the last seven days.
Welcomed reaction
Responding to the study, Alcohol Action Ireland said it welcomed some of the trends in alcohol consumption among Irish teenagers but said alcohol should not be a part of any 15- or 16-year-old's life.
"One of the most disappointing aspects of this survey is that over three-quarters of Irish 15- and 16-year-olds still find it easy to obtain alcohol, which is reflective of both the massive increase of the availability of alcohol in outlets throughout Ireland in recent years and the ongoing failure of the current regulations."
Ministers of State for Health Marcella Corcoran Kennedy and Catherine Byrne welcomed the survey results on alcohol and cigarettes.
Ms Byrne said a particular focus of the Government's National Drugs Strategy consultation was "getting the views of young people on the measures required to tackle the issue into the future".
The survival secret of the 'earth's hardiest animal' is now revealed
MEET THE PLANET'S HARDIEST ANIMAL IT'S THE TARDIGRADE AND IT HAS JUST REVEALED A GENETIC SECRET THAT COULD HELP PROTECT HUMAN CELLS.
Researchers have discovered a genetic survival secret of Earth's "hardiest animal".
A gene that scientists identified in these strange, aquatic creatures – called tardigrades – helps them survive boiling, freezing and radiation.
In future, it could be used to protect human cells, the researchers say.
It was already known that tardigrades, also known as water bears, were able to survive by shrivelling up into desiccated balls.
But the University of Tokyo-led team found a protein that protects its DNA – wrapping around it like a blanket.
The scientists, who published their findings in the journal Nature Communications, went on to grow human cells that produced that same protein, and found that it protected those cells too.
This, the scientists suggest, means that genes from these "extremophiles", might one day be used to protect living things from radiation – from X-rays, or as a treatment to prevent damage from the Sun's harmful rays.
Tardigrades are more commonly – and cutely – known as water bears. Scientists had thought that they survived radiation exposure by repairing the damage done to their DNA. But Prof Takekazu Kunieda, of the University of Tokyo, and his colleagues, carried out an eight-year study of a tardigrade genome to pinpoint the source of its remarkable resilience.
EXTREME GENETICS
To identify their secret weapon, researchers scrutinised the genome of one tardigrade species, looking for proteins that were attached to the DNA, and that therefore might have a protective mechanism. They found one that they have called "Dsup" (short for "damage suppressor").
The team then inserted the Dsup gene into human cells' DNA, and exposed those modified cells to X-rays; Dsup-treated cells suffered far less DNA damage.
Prof Mark Blaxter of the University of Edinburgh told BBC News that the study was "groundbreaking".
"This is the first time an individual protein from a tardigrade has been shown to be active in radiation protection.
"[And] radiation is one of the things that's guaranteed to kill you."
By sequencing and examining the genome, this study also appears to resolve a strange genetic controversy about these creatures. Research published in 2015, involving a different tardigrade species, concluded that the creature had "acquired" a portion of its DNA from bacteria through a process called horizontal gene transfer.
That study suggested that some of these beasts' notorious imperviousness had been snipped out of the bacterial genetic code.
This study found no evidence of this gene transfer.
The tardigrades themselves, though, were far more resistant to X-rays than the human cells that the researchers manipulated. "[So] tardigrades have other tricks up their sleeves, which we have yet to identify," said Prof Matthew Cobb from the University of Manchester.
With further research, scientists think that genes like Dsup could make it safer and easier to store and transport human cells – protecting, for example, delicate human skin grafts from damage. Prof Kunieda and his co-author on the study, Takuma Hashimoto, applied to patent the Dsup gene in 2015.
Prof Cobb added that, in principle, "these genes could even help us bioengineer organisms to survive in extremely hostile environments, such as on the surface of Mars – [perhaps] as part of a terra-forming project to make the planet hospitable for humans".
And scientists with a fascination for tardigrades think this discovery could be the tip of the iceberg.
Prof Blaxter said that tardigrade research could even explain how exactly "radiation damages DNA, and how we might prevent DNA damage from other sources".
Prof Takekazu Kunieda told BBC News that he hoped more researchers would join the "tardigrade community".
"We believe there [are] a lot of treasures there,"