Enda Kenny vows no change to Ireland's 12.5% corporate tax rate
THERE WILL BE NO CHANGE TO IRELAND'S 12.5% CORPORATE TAX RATE, THE TAOISEACH TOLD US BUSINESS LEADERS IN IRELAND YESTERDAY.
Enda Kenny gave the reassurance after his first post-Brexit meeting with the American Chamber of Commerce at a business lunch in Cork.
Chamber president, Bob Savage, said the need for certainty in policy and administration to secure current and future inward investment had come into sharp focus in recent weeks in the wake of the UK's shock Brexit vote.
"The American Chamber believes that competitiveness and certainty of tax policy are necessary to Ireland's foreign direct investment (FDI) offering," he said.
And in their pre-budget submission, the chamber, which represents US companies in Ireland employing some 140,000 people, said competitiveness and certainty of tax policy are vital parts of Ireland's foreign direct investment offering.
After meeting members of the chamber's board yesterday, Mr Kenny ruled out any question of Ireland's corporate tax rate being up for negotiation post-Brexit, or following the EU's tax ruling on US tech giant Apple, which is the subject of an appeal.
"This is the first meeting I have had with the (American Chamber (of Commerce) since the decision on Brexit," Mr Kenny said.
"I have to say that the American Chamber has given a very strong indication of their continued support for investment in Ireland.
"I have made it perfectly clear, from a tax certainty point of view, that Ireland is absolutely committed to its 12.5% corporation tax rate.
"That will not be changing and that is an important element for consideration with American investors coming here to Ireland.
"From my discussions with the IDA the (foreign direct investment) pipeline is busy up ahead.
"There are matters that we need to attend to in the future in terms of infrastructure, housing and provision of adequate facilities for major companies to do their jobs here.
"There are 175,000 people directly employed in both companies that are both associated with and members of the American Chamber and Irish companies who have invested here."
Mr Savage welcomed the Taoiseach's clear statement on corporate tax.
"We appreciate the Taoiseach's unambiguous declaration that the Government will steadfastly defend our hard-earned reputation as a pro-business country that is defined by fairness and certainty of treatment," he said.
"We have never seen the competition for US business investment from other regions of the world as intense as it is today. It is essential that we constantly benchmark our competitiveness against the countries that compete with us."
Thousands of protesters take part in pro-choice rally in Dublin
LONDON, PARIS, BRUSSELS AND NEW YORK AMONG CITIES HOSTING DEMONSTRATIONS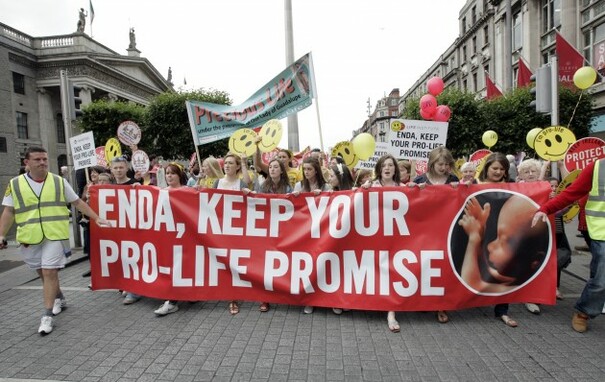 BAD WEATHER AND BUS STRIKES DID NOT DETER THOUSANDS TURNING OUT FOR THE FIFTH ANNUAL MARCH FOR CHOICE RALLY IN DUBLIN.
Tens of thousands of people have taken part in a Dublin rally calling for he repeal of the Eighth Amendment of the Constitution in one of the biggest pro-choice demonstrations seen in Ireland.
The march set off from Garden of Rembrance on Parnell Square shortly after 2pm, travelling down O'Connell Street.
The mainly young crowd shouted chants of "Not the church, not the state, women must decide their fate", "Get your rosaries off my ovaries", and "Pro-life, that's a lie, you don't care if women die" before reaching Merrion Square where speeches were made.
Incessant heavy rain and the ongoing Dublin Bus strike failed to deter large crowd. ,
Organised by the Abortion Rights Campaign, the March for Choice event was the fifth annual protest by the group and the biggest.
Several observers put the attendance at about 20,000, although some participants calculated a higher figure.
Pro-choice campaigners among the Irish diaspora are holding parallel demonstrations in a number of cities including London, Paris, Berlin, Brussels, New York, San Francisco, Toronto and Melbourne.
Linda Kavanagh of the Abortion Rights Campaign said: "In 1916 people dreamed of a better Ireland, one of self-determination and the right to choose their own destiny. A hundred years later, we're still fighting for that right; there can be no freedom without bodily autonomy.
"We cannot wait for another woman to die, for another woman to be kept alive artificially, for another woman to be force-fed and cut open against her will.
"Enough blood has been spilled, enough women have died. No more shame, no more silence, no more stigma. This is our Rising."
Singer Mary Coughlan told the crowd: "I have been involved in many campaigns, and this is surely the most joyous of all to see so many of you here today.
"I'm a mother of five children, three daughters and two sons. I'm a grandmother of three children and another one on the way.
Sligo man and restaurant boss wants to see the county helped out more by the Government

THE PRESIDENT OF THE RESTAURANTS ASSOCIATION OF IRELAND, SLIGOMAN, ANTHONY GRAY (RIGHT OF PICTURE ABOVE) HAS URGED THE GOVERNMENT TO HELP SLIGO AND RURAL IRELAND IN ITS RECOVERY AND GROWTH BEFORE IT BECOMES A 'DESERT WASTELAND'.
"It's quite amazing to see other small towns and counties like Mayo thriving while the rest of rural Ireland is forgotten about. For example, Mayo has five dedicated tourist officers and Galway, eight. Sligo has a big fat zero, the same as many other rural towns like Roscommon. I wonder why you continually hear of job announcements in these areas. Maybe, it's due to the fact they have fibre broadband, motorways and good healthcare?
Mr Gray continued, "I drive to Dublin regularly and from the Collooney roundabout until Castlebaldwin it's quite eerie just to count the number of crosses where far too many people have been killed. What a picture for potential tourists, visitors and investors. We are to get a motorway, but when?
"We in Sligo, only have tourism to hang our hat on. We have zero job investments but fantastic hard working people in IDA who keep trying to bring more to Sligo but the government only allows them a 19% growth outside of Dublin. If it wasn't for some talented like-minded people who believe in and drive Sligo forward, who brought the Fleadh here and tirelessly promote Sligo for its food culture and beauty, you might as well forget this part of the most beautiful countryside actually exists.
"At present, the only major contributor to Sligo for me is Failte Ireland, they realise its wealth as a tourist destination and believe it will work. It is the only organisation that are investing in Sligo," he said.
With the success of events like the Fleadh, the continuing hard work by the Tidy Towns, Sligo food trail and other groups who consistently promote Sligo for its rich heritage in music and beauty, it really shows that there is a passion and it clearly outlines our ability to succeed but when there is absolutely no Government support its very frustrating.
I sit on many boards trying to promote Sligo and, pardon the pun, there's one major ingredient missing from all rural towns in Ireland and Sligo and that is government investment and money. Sometimes, you can't even get enough money for a sign to bring with you to say that you're from Sligo."
A frustrated Mr Gray noted Sligo's most recent loss. "Sligo has most recently lost its library due to the county council being handed a financial plan that's totally unrealistic. The fact of the matter is the council has no money and it is being asked to reduce its staff by 42%. Something has to give and what can you do if you don't have the staff? Let's call it as it is, Sligo has no money, fact. None whatsoever from the government and more than likely, it won't get any in a hurry, the same as every other rural town in Ireland. This is why we will never reach our full potential unless changes are made. No one can work in the direction they want because of this. It's down to the current government to make changes and no one else.
It's about time that Sligo and rural Ireland stood up and got angry. At present, our TDs in rural Ireland and Sligo are not strong enough nor do they possess the political clout. Do you think a library in Kerry would have closed under the eyes of the Healy Rae brothers? Not a hope.
This Government's blind indifference to Sligo and rural Ireland is destroying its potential. The litany of broken promises from the last general election measured against outcomes since represents the greatest act of political skulduggery by this government. It is true the greatest failure is the two tier recovery, it will be the ruination of rural Ireland and Sligo if not addressed.
Strategic thinking and the right resource application can transform our local economy. A balancing of the books by government can give Sligo a budget it can work with to embrace its true potential, all that's required is a life line. We in Sligo and other towns can do this and the rest of the country will start to prosper but only then. The government must look at this matter clearly instead of with the blinkered vision. Right now there is a two-tier economy and this is widening between urban and rural Ireland.
If the government wants to redeem themselves they must understand that Ireland, especially rural Ireland, is still in a very fragile state. With now having to contend with Brexit and fluctuations in sterling, it really is about time the people in power remember the rest of Ireland and the border counties. It's time somebody cared and did something about rural Ireland. After all, it's not a desert wasteland but it will be if the government fails to repay rural Ireland for what it suffered in austerity by not investing in job creation and boosting tourism. For now, a Sligo budget will be detrimental to the Restaurant Industry in rural Ireland and Sligo and SMEs across this nation."
A

"Healthy Weight for Ireland"

new action plan to tackle obesity
SUGAR TAX
60% OF IRELAND'S ADULTS NOW OVERWEIGHT OR OBESE
A new action plan to target Ireland's growing obesity problem has been launched by the Department of Health.
Currently in Ireland, six in 10 adults and one in four children are overweight or obese and this costs the country around €1 billion per year. Carrying excess weight significantly increases a person's risk of developing a number of serious conditions, including heart disease and type 2 diabetes.
A Healthy Weight for Ireland – Obesity Policy and Action Plan 2016- 2025 contains 60 specific actions which aim to reduce the burden of obesity and improve the overall health of Irish people.
ACTIONS WHICH WILL BE TAKEN OVER THE COMING YEARS INCLUDE:
-New national healthy eating guidelines

-The development of a nutrition policy

-Calorie posting legislation

-The prioritisation of obesity services in the HSE service plans for 2017 and beyond

-Support for the introduction of a sugar levy to discourage the consumption of sugar-sweetened drinks

-The appointment of a new clinical lead for obesity by the HSE.
Speaking at the launch of the plan in Dublin, the Minister for Health, Simon Harris, said that while lifestyle choices are made by individuals and families, 'Government can and must help to empower people to make these healthy choices'.
"We have a responsibility to influence the environment and conditions which help people to have their desired quality of life and enjoy physical and mental health and wellbeing to their full potential," he commented.
The plan recognises that when it comes to obesity rates in Ireland, there are socio-economic inequalities, with people in poorer areas much more likely to be obese.
To this end, the HSE aims to develop community-based health promotion programmes with a special focus on disadvantaged areas.
Meanwhile also at the launch of the plan, the Minister for Children and Youth Affairs, Dr Katherine Zappone, launched Healthy Lifestyles – Have Your Say, a report based on consultations with children and young people on this issue.
"Body image and media influences were identified as the main barriers to a healthy lifestyle among teenagers, including the pressure to conform to a particular body image. Exam stress and heavy study workloads were identified as contributing to sedentary and unhealthy lifestyles.
"Other school-related issues identified by young people include their criticisms of the teaching of social, personal and health education (SPHE) and the lack of choice in physical education (PE), with the few alternatives to team sports it offers and its failure to cater for different interests," Minister Zappone explained.
She said that it is important to give young people a voice in decisions that affect their lives and this also leads to 'more effective policies and services'.
The obesity plan was welcomed by the Food Safety Authority of Ireland, which said that it offered 'an unprecedented opportunity to create a healthier nation'.
The plan was also welcomed by the Irish Heart Foundation, but it warned about the risk of 'implementation paralysis'.
"We need to ensure that the implementation paralysis that has accompanied previous policies is not repeated. It's a worrying sign that there is currently no dedicated funding for the strategy, whilst we already know that one of its key measures, the imposition of a sugar-sweetened drinks tax, has been postponed until 2018 at least, despite overwhelming public and political support," commented the IHF's head of advocacy, Chris Macey.
He added that the longer it takes to address this issue, 'the more children will be condemned to lives dominated by ill health, chronic disease and the prospect of an early grave'.
Scandinavian type baby care boxes aim to reduce cot deaths in Ireland
A SCANDINAVIAN BABY CARE CONCEPT WHICH HAS DRAMATICALLY REDUCED INFANT MORTALITIES SUCH AS COT DEATHS IN FINLAND WAS INTRODUCED TO IRISH MOTHERS-TO-BE YESTERDAY.
The baby box programme launched at University Maternity Hospital Limerick (UMHL) will provide free baby boxes for infants to sleep in.
Made from durable cardboard, the box can be used as a baby's bed for the first eight months of life. The box prevents babies from rolling onto their tummies, which experts say can contribute to Sudden Infant Death Syndrome (SIDS).
The baby boxes come with a foam mattress, waterproof mattress cover and cotton sheet.
Education material with advice from healthcare professionals on reducing risks to babies, is also included in the baby box pack.
The use of baby boxes has been credited with helping reduce infant mortality rates in Finland from 65 infant deaths per 1,000 births in 1938 to 2.26 per 1,000 births in 2015.
Ireland's infant mortality rate is 3.7 per 1,000 births.
The concept already adapted in Britain, Canada and the US was introduced to this country yesterday at UMHL, the first Irish maternity hospital to embrace the idea.
As well as the baby boxes, new mothers will be presented with clothing and educational materials.
Dr Mendinaro Imcha, consultant gynaecologist/obstetrician UMHL, said: "The baby box programme is a proactive approach to improving the health and safety of the newborn child and parents. We are combining tradition with current technology and supporting the newborn child's family with online education material covering a broad range of essential topics and postnatal care."
Margaret Gleeson, chief director of nursing and midwifery at the UL hospitals group, said up to 5,000 baby boxes will be distributed to new mothers who give birth at UMHL over the coming year.
Ms Gleeson said: "The baby boxes are a thing of beauty and there is the invaluable education element of this initiative which makes this truly patient-centre."
Tipperary-based tattoo artist, and expectant mother, Karen Smith did the artistic designs which decorate the UMHL baby boxes.
She said: "The whole meaning behind my design is rebirth. I thought the butterfly was the perfect symbol for the baby box. It is a symbolic creature in many cultures and lends itself to all manner of colourful and fanciful adaptations, in this case our beautiful baby box."
Jennifer Clery, chief executive of the US-based The Baby Box Co, said: "We are delighted to expand our baby box programme to Ireland and look forward to this new collaboration here in Limerick at the University Maternity Hospital. The baby box is an innovative integrated programme to support parents and improve maternal and infant healthcare outcomes globally."
UMHL is the second largest maternity hospital in the country, outside Dublin and cares from women from Limerick, Clare, Tipperary, North Kerry, North Cork and areas of Offaly.
Priscilla Chan and Mark Zuckerberg aim to 'cure, prevent and manage' all diseases
The couple plans to invest $3bn over next decade to help scientists develop and utilise tools such as artificial intelligence and blood monitors to treat illnesses
Mark Zuckerberg and Priscilla Chan pledge $3bn to end all disease
MARK ZUCKERBERG AND HIS WIFE, PRISCILLA CHAN, HAVE LAID OUT PLANS TO INVEST $3BN OVER THE NEXT 10 YEARS WITH THE NOT INSIGNIFICANT GOAL OF TACKLING ALL DISEASES.
"Can we cure, prevent or manage all disease by the end of this century?" asked Zuckerberg, speaking in front of a packed lecture theatre at the University of California, San Francisco's (UCSF) William J Rutter Center.
The Chan/Zuckerberg Initiative will focus on some of the world's biggest killers, including heart disease, cancer, infectious diseases and neurological diseases.
One of its biggest investments is to be a $600m "Biohub" at UCSF, which will bring together scientists and engineers from Stanford, Berkeley and UCSF – who haven't collaborated in this way before – to develop tools to treat diseases.
Cure all diseases? The Chan Zuckerberg plan is brilliantly bold
The second focus will be transformative technology, all of which will be made available to all scientists everywhere.
"Throughout the history of science, most of the major scientific breakthroughs have been preceded by some new tool and technology that allows you to see in new ways," explained Zuckerberg. "The telescope helped us understand astronomy and the universe, the microscope helped us understand cells and bacteria to help us develop treatments for infectious diseases, while DNA sequencing and editing helps us fight cancer and genetic disorders."
Zuckerberg suggested that artificial intelligence could help with brain imaging to treat neurological diseases, machine learning could be used to analyse cancer genomes, and chips and blood monitors could identify diseases quickly. "These are the kinds of tools we want to focus on building at the Chan Zuckerberg Initiative," he said.
The acclaimed American neurobiologist Cornelia Bargmann, who will lead the initiative, gave the example of a "cell atlas", a comprehensive resource that maps the locations, types and molecular properties of all of the cells in the human body.
"We need this to develop new understanding and cures for diseases in all areas of medicine," she said.
The Chan Zuckerberg Initiative is a limited liability company that the couple uses to make donations and investments to advance their philanthropic causes. It was launched at the birth of the couple's first daughter, Max, in December 2015. The couple has committed 99% of their Facebook stock, valued at $45bn, to the initiative, which makes charitable donations and for-profit investments.
The organisation initially focused on education, funding the Indian company BYJU's, which helps students learn maths and science, and the Nigerian company Andela, which trains African software developers. It has now turned its attention to science.
The organisation will achieve its objective by focusing on building tools and technology, bringing scientists from across the world together and growing a movement to fund more scientific research.
Will Zuckerberg and Chan's $45bn pledge change philanthropy?
Wiping back tears in an emotional opening talk, Chan described her work as a paediatrician.
"I have worked with families at their most difficult moments in their lives, from making the devastation diagnosis of leukaemia to sharing with them that we were unable to resuscitate their child," she said. "By investing in science today, we hope to build a future in which all of our children can live long and rewarding lives."
Zuckerberg and Chan acknowledged it was an ambitious undertaking. "It's a big goal," said Zuckerberg. However, he said that he and Chan had spent two years talking to Nobel Prize-winning scientists and researchers and believed it was not unrealistic.
"Can we all together work to cure, prevent or manage all disease within our children's lifetime? We think it's possible and so do scientists," Chan added. "It's not that we won't ever get sick, but that our children and their children will get sick a lot less."
The plan won the approval of one surprise guest – Microsoft founder-turned-philanthropist Bill Gates. He was welcomed to the stage by Zuckerberg, who described him as a "role model and mentor".
"The Chan Zuckerberg Initiative is already doing some very promising work in improving the education of all students. It's amazing they are taking on another bold challenge," said Gates, who has flexed his philanthropic muscles by funding projects to tackle malaria and HIV through the Bill and Melinda Gates Foundation for the last 15 years.
"We cannot end these diseases with the tools we have today. Only through science can we get an HIV vaccine, a malaria vaccine," he said.
"I am so impressed with the team that's been pulled together here. I have no doubt that we'll make great progress on these diseases and literally save millions of lives and make the world a better place."